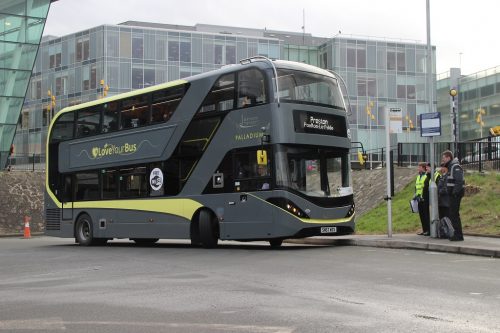 The electrification upgrade of the railway between Blackpool and Preston means the line is currently closed for 19 weeks. As senior managers at Blackpool Transport explain to Andy Izatt, they have seen the consequential bus replacement service as an opportunity to not just extend the council-owned company's own brand values, but to underline the message that the seaside resort it serves remains firmly open for business
"A year ago, Northern (Arriva Rail North) advised us about what would be a 19-week blockade of the railway line between Blackpool and Preston starting on November 11, 2017 while it was upgraded and electrified," James Carney, Blackpool Transport's Finance & Commercial Director, explained. "We've built a good working relationship with Northern and could see the commercial impact the closure would have on the town and us, particularly our tram operation, through a reduction in visitors to Blackpool. It would also affect the ability of people living here to get to work and travel to points beyond Preston.
"Our premise is that Blackpool is on the verge of a significant economic revival. Electrification of the railway is essential to the town's longer term future, but we felt that we had a responsibility to ensure that travellers going to and from had the best possible service while the blockade was in place. It should not just be another rail replacement, but a means of demonstrating that Blackpool is still open. We wanted to be involved because it is an opportunity to show the public how much we care.
"Because we have a strategy in place for buying new buses on an ongoing basis, it was a relatively easy decision to bring the next batch of buses forward six months. Our shareholder needed to give consent to the change in the loan profiles, but that was given unhesitatingly. Naturally we would incur higher depreciation costs, but the gain would be that we would have a fleet of new vehicles available, and by using them we would require fewer buses because they would be very reliable vehicles.
"UIC (Universal Improvement Company) has helped the team at Blackpool Transport with project management and it was that capability that enabled us to plan ahead, be flexible and responsive to what was required. When we started talking to Northern about this project, we could lay out our plans and at each subsequent meeting tick off what had been achieved.
"Northern asked us how many departures we wanted to cover. We chose 17 diagrams although in the event using 18 buses because that made more efficient use of drivers' labour. It was approximately half of what was available and it fitted with the number of new vehicles we had on order – 20 Enviro400 Citys. We could have taken on more work, but wanted to make sure that what we did, we did well.
"While Northern is the end client, it appointed Arriva UK Trains Road Transport Section to coordinate the rail replacement and we're a subcontractor. We knew that taking on the extra commitment was going to be very demanding. As well as increasing our PVR (Peak Vehicle Requirement) by more than 20%, our manning levels would go up by a similar percentage. Jo Pitcher is the Project Manager for Northern and she understood from the start what we were trying to do. She has been very efficient sorting out any issues and because of her personal commitment, it has been possible for us to deploy the resources we wanted. Both sides have really wanted the project to succeed."
"As James has said, we think Blackpool is on the verge of a revival, which is very exciting," said Head of Stakeholders at Blackpool Transport, Karen Cooper. "There's a poor perception of the resort in some parts of the country and even in some parts of the Fylde coast. There's also a poor perception of public transport generally in many quarters and that particularly resonates with car drivers. We wanted to challenge all of that.[…]
By subscribing you will benefit from:
Operator & Supplier Profiles
Face-to-Face Interviews
Lastest News
Test Drives and Reviews
Legal Updates
Route Focus
Industry Insider Opinions
Passenger Perspective
Vehicle Launches
and much more!