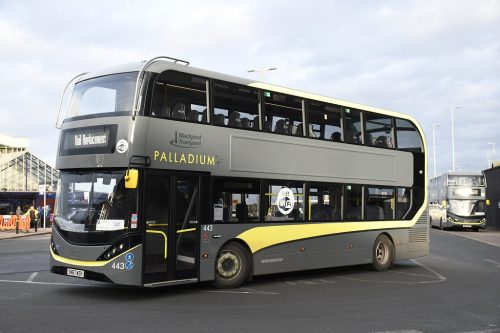 Blackpool Transport's ambitious strategy for upgrading its fleet is part of a multifaceted approach to customer engagement as senior managers explain to Andy Izatt
"In the latest stage of our £22m investment programme, there will be 38 new buses going on to our network with the introduction of the summer schedule," explained James Carney, Blackpool Transport's Finance & Commercial Director. "That's the 20 Enviro400 Citys currently deployed on rail replacement between Blackpool and Preston which are in addition to our normal winter fleet requirement, and 18 9.7m Enviro200 MMCs that will replace all our Optare Solos.
"Cantilevered seats have been specified for the Enviro200 MMCs as part of our developing Palladium-branded specification – this is the first time we've done that as it will make these buses easier to clean. There will also be a big symbol on the floor highlighting where the wheelchair bay is and seats in front of the internal step will have the words 'Priority Seating' stitched into the head rests.
"Like the rail replacement Enviro400 Citys, TFT screens will be fitted giving our Head of Stakeholders, Karen Cooper, another avenue to deliver infotainment linked to attractions, retailers and hoteliers in the town. We want to encourage our stakeholders to sell our tickets on their websites, but also want to persuade them to sell their tickets through our enhanced travel app which we'll be launching prior to the summer season. We are exploring new markets and doing it in such a way that everyone can see the advantages.
"The latest intake of vehicles is on top of the 35 Enviro400 Citys we've already introduced over the past two years. The specification of those included wood-effect flooring, E-Leather for the seats, free WiFi, and next-stop audio and visual announcements. The second batch additionally had tables upstairs with USB charging points.
"I should mention that the latest 20 we're using on rail replacement have a USB port, stop button and mobile device holder by each seat and seat handgrips replace many of the poles upstairs. We worked with Blackpool Sixth Form College to refine our specification and the resulting video produced in conjunction with Alexander Dennis (ADL) ends with the young people giving us a list of features they would like to see. That's what we've incorporated into those buses.
"Don't forget we also operate 10 Mercedes-Benz Citaros and there's the nine Plaxton Centro-bodied Volvo B7RLEs that have additionally been refurbished to Palladium specification. With the latest intake, 70% of the fleet will have been replaced over the past two years. The target is that we won't be operating anything older than five by the end of 2019.
"ADL delivers on time, its vehicles are mechanically sound and if there's a problem it's fixed within 24 hours. We're actually getting one and three quarter miles per gallon more with the Enviro400 Citys than the Dennis Tridents being replaced so they're more fuel efficient as well.
"ADL is volunteering knowledge transfer so our technicians know exactly what's required to keep each bus in warranty level condition for five years. We've actually also sold it all our Trident parts. That wasn't written into the original deal (CBW, April 18, 2017), but it was agreed on a handshake. The opportunity for ADL was to become our sole supplier by 2020 and we're now paying a fixed sum per month for parts for these buses, as well as our new vehicles.
"Last year we reduced our budgeted parts costs by £166,000 and we're beating the budget. We have also been able to reduce our engineering team by 22% without a single compulsory redundancy. As a business we're saving money and our customers are receiving a much better product.
"The only extra cost is depreciation. What's brave about the agreement we reached with ADL is not the price we buy buses at or how they're maintained, but the risk we take when we sell after five years. What I'm looking for is at least 60% of the original price for vehicles that will have been maintained to warranty standards, have a very high specification and have covered less than 60,000 miles per year in a town with largely level roads. At that price we will be able to repay the Shareholder's loan and avoid any loss on disposal. If this is achieved, the next cycle of bus renewals will be easier to justify."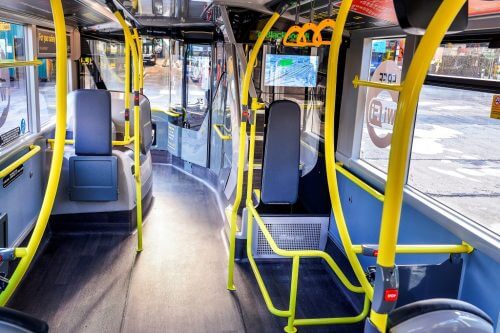 […]

By subscribing you will benefit from:
Operator & Supplier Profiles
Face-to-Face Interviews
Lastest News
Test Drives and Reviews
Legal Updates
Route Focus
Industry Insider Opinions
Passenger Perspective
Vehicle Launches
and much more!