Blue Bus Innovations has become the first UK operator to operate CNG-powered minibuses. They will operate on its new central London to Luton Airport service
Blue Bus Innovations, a start-up company based in Luton and operating services between central London and Luton Airport, has taken delivery of six Iveco Daily Tourys for the service.
The six that have been delivered are a split between three diesel-powered 3.0 litre Dailys developing 180hp and three powered by compressed natural gas (CNG), a UK first.
The CNG vehicles are powered by the 3.0 litre Daily 50C14GA8 engine which develops 140hp, and have 16 seats. The CNG powered engine is at least 4dB quieter than its diesel equivalent, making it ideal for late-night drop-offs on the Blue Bus service.
All six vehicles have been specified with Kiel Avance seating with three-point belts, LED interior lighting and air-conditioning with individual passenger vents.
The performance of the CNG powered vehicles are comparable to the diesel versions, but Managing Director of Blue Bus Innovations, Tazio Puri Negri was more impressed with their environmental credentials.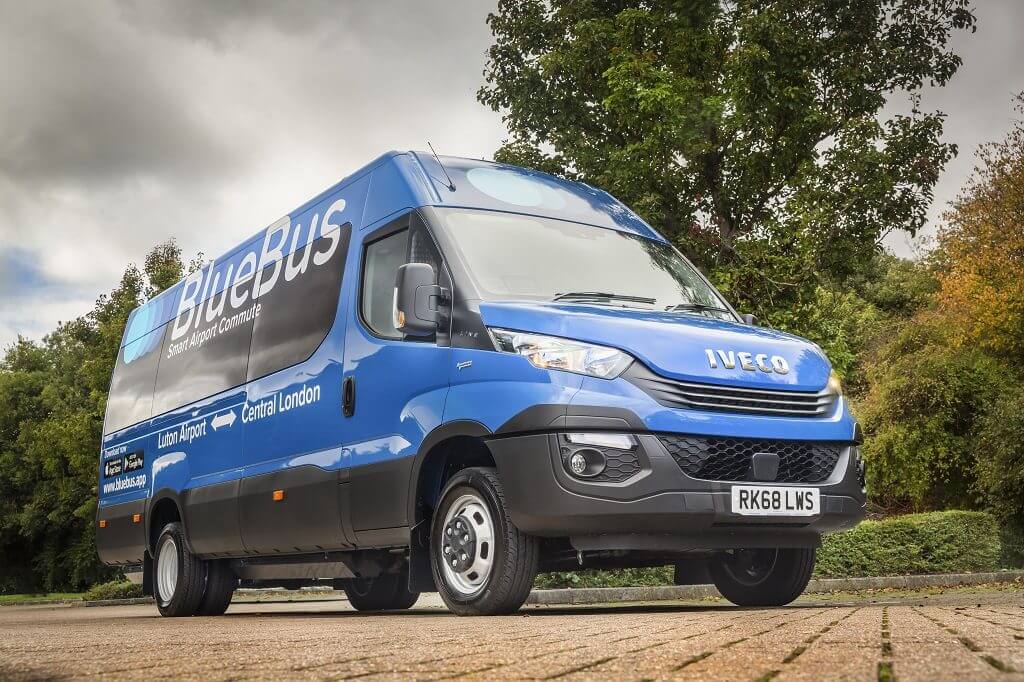 Commenting on the deliveries, he said: "We pride ourselves on being a responsible business. Whilst we strive to offer our customers the best service, we are also aware we need to minimise our impact on the environment.
"That's why we turned to Iveco. Their natural gas offering is the best on the market and was the only choice for us as we get our business on the move. And with emissions restrictions set to get even tougher, we will look to increase our fleet of alternative fuelled minibuses."
Blue Bus Innovations' on-demand airport services offer tickets from £7.99 through its bluebus.app from central London to Luton Airport, operating from 0700 to 2300hrs daily.
Blue Bus Innovations took the vehicles on a five-year lease from Iveco Capital; it has also taken the full Iveco Elements repair and maintenance package through Iveco Retail in Croydon.