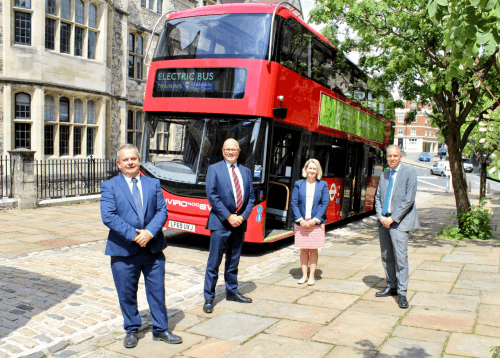 Go-Ahead Group-owned Bluestar joined representatives from Hampshire County Council last week for a potential glimpse into the future of sustainable transport in the region.
The company visited The Great Hall in Winchester with a BYD ADL Enviro400EV double-decker demonstrator, and there was a chance to take the vehicle for a spin across the city.
"We were pleased to have the opportunity to demonstrate this British-built electric bus, and are excited by the potential it offers us – in terms of improving air quality here," said Bluestar Managing Director, Andrew Wickham.
Among those joining Andrew were Councillor Rob Humby, Executive Lead Member for Economy, Transport and the Environment, Councillor Russell Oppenheimer, Executive Member for Highway Operations, Councillor Jan Warwick, Executive Member for Climate Change and Sustainability, and Councillor Stephen Philpott, Chair of the Economy, Transport and Environment Select Committee.
"This is an excellent time, as we emerge from lockdown restrictions, to look at new ways to help lower emissions across the region," added Andrew. "Buses – especially electric buses – are the perfect solution for this, and they have the potential to significantly improve air quality in our towns and cities.
"The response we received last week from Hampshire County Council was extremely encouraging, and we're looking forward to working in partnership to help bring even more sustainable transport to the county in the not too distant future."
Cllr Humby said: "It was very encouraging to see this advance in bus development and experience travel on a more sustainably powered public transport vehicle. We appreciate that the investment by bus operators in electric buses will be significant but the benefits for the environment and contribution to combatting climate change will more than justify this. I look forward to seeing diesel powered buses across Hampshire being replaced by electric buses in the years to come."