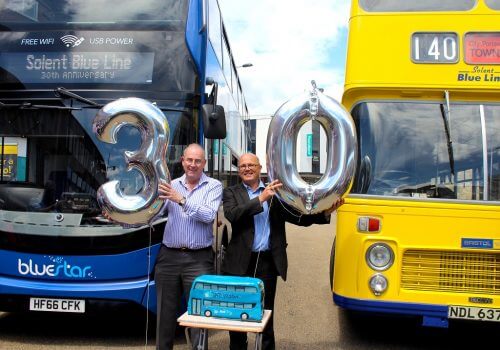 Southampton-based Bluestar, part of Go South Coast, has celebrated its 30th birthday with special event.
Vintage vehicles and family activities took pride of place next to the city's famous Bargate for Solent Blue Line's 30th birthday party.
Now known as Bluestar, the operator laid on the special family event in support of Southampton Children's Hospital Charity.
Managing Director, Andrew Wickham, said: "We were thrilled to celebrate 30 years in Southampton, alongside those who have worked with us and travelled on our buses over the last three decades.
"This was a wonderful celebration of Solent Blue Line's history here. People had the chance to take to the roads in vintage buses – with three special heritage routes running across the town during the event.
"It was great welcoming guests to our party, which we held in support of our corporate charity – a very worthy cause."