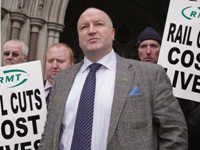 Bob Crow re-elected at RMT Bob Crow has been re-elected unopposed as general secretary of the Rail Maritime Transport (RMT) union.
Crow will begin his third five year term at the helm of the union in the New Year.
Alex Gordon, RMT president, said: "Bob Crow's unopposed reelection as RMT General Secretary, with overwhelming support from our branches, is a total vindication of the industrial and political strategy that has been developed by the union under Bob's leadership.
"RMT's campaigning programme, with Bob Crow as our General Secretary, rolls on. From driverless tube trains, to the impending Government response to McNulty, through to the assault on bus services and shipping, we stand ready for the battles ahead."