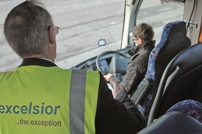 Excelsior coach on hand for under 17s Car Club Annual Truck Day
Excelsior Coaches attended the Under 17s Car Club Annual Truck Day at Long Marston last weekend, along with the Royal Mail to support an initiative to promote Safe Driving to Under 17's.
There was a huge turnout with more than 30 large vehicles in constant use throughout the day. Royal Mail offered 44-tonne lorries, a few 7.5 tonne vehicles, a US truck with a crash box and an assortment of other large vehicles including one of Excelsior Coaches' vehicles.
Bournemouth-based Excelsior provided a coach and a driver to spend the day at the annual event, demonstrating the vehicle and allowing the members of the club to take to the wheel themselves and experience driving a full size coach, many for the first time.
Excelsior said the standards of the members were extremely high and they were also driving their own vehicles during the day. Along with practical driving, the members also complete theory tests based upon the DSA Theory tests and First Aid Assessments.
The renowned operator said it's impossible to under-estimate the impact this has on Under 17 Car Club members and of course with the M5 crash it is all terribly timely, young people gaining experience of the needs of large vehicles, longer stopping distances, large turning circles, blind spots, it is a hugely valuable experience and something money simply cannot buy.
There are currently about 300 members and the club is open to anyone who is tall enough to drive and is between the ages of 12 years and 15 years.
Kathy Tilbury, managing director of Excelsior Coaches said: "We were specifically asked to get involved with this event, after further discussion with the Under 17 Car Club, we recognised the importance of such organisations in promoting safe driving, if we can get these concepts installed in young people at this age, it can only contribute to making our roads safer in the long term."
BBC Midland and ITV Meridian were both there filming the events of the day and next year a new venue has been agreed at seven miles of road system at Bovington on six Sundays in 2012 and every year for the foreseeable future.
For further information on the U17 Car club, visit www.under17-carclub.co.uk