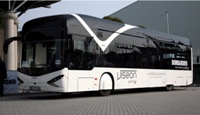 Bombardier is set to extend its presence in the bus market as a provider of wireless charging technology.
The Canadian specialist producer of aircraft, rail and tram systems recently established an e-mobility Centre of Excellence in Germany and has been involved in extensive trials with a tram system in Augsburg and a bus system in Lommel, Belgium.
Utilising electromagnetic induction technology from loops buried beneath the road surface, Bombardier is developing systems which can charge both 'on-themove' and for stationary 'charge at stop' applications. A new division entitled Primove has been established to develop the wireless charging system. Vehicles using this system need no diesel engine and therefore operate totally emission free at point of use.
Based on successful test results, Bombardier has been awarded two local authority contracts for operational trials. One in Braunschweig, Germany, in a joint project involving Solaris and the second for Bruges in Belgium, working alongside Van Hool.