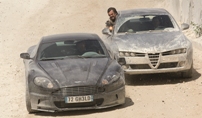 Iconic vehicles will assemble to celebrate the 50th year of James Bond
The world-famous National Motor Museum at Beaulieu and EON Productions have announced an exciting new exhibition of 50 James Bond vehicles, known as 'Bond in Motion', which is to be unveiled to the public on January 18 next year.
The exhibition is the largest of its kind staged anywhere in the world. It will showcase many of the most loved and iconic James Bond vehicles in celebration of the 50th year of James Bond. Bond in Motion will run for the length of 2012 at Beaulieu.
2012 also marks the 40th anniversary of the National Motor Museum, making it a fitting year to be hosting a major new car exhibition with some of the most familiar vehicles in film to mark 50 years since the first Bond film was released.
The Bond in Motion exhibition will feature a wide range of vehicles which have made appearances in Bond films over the years including cars, boats, motorbikes, sleds, jets and many more.
This collection of iconic movie vehicles will include the 1964 Aston Martin DB5 and the 1937 Phantom III Rolls-Royce both from Goldfinger, the Lotus Esprit S1 affectionately nicknamed 'Wet Nellie' from The Spy Who Loved Me, the Bede Acrostar jet famously flown in Octopussy, the BMW 750iL from Tomorrow Never Dies, the original Parahawk featured in The World is Not Enough and the original SFX Celle Case Ski, famously navigated by Timothy Dalton in The Living Daylights.
Stephen Munn, commercial director at Beaulieu said: "2012 is going to be a very exciting year for Beaulieu.  After many months of planning, the preparation of the Bond exhibition area is about to begin and the first consignment of vehicles, on their way from theUSA, will be arriving in a few weeks."
Beaulieu has a collection of over 250 vehicles telling the story of motoring on the roads of Britain from the dawn of motoring to the present day. There are historic racing cars, modern rally cars and the latest F1 machines as well as World Land Speed Record Breakers and family cars from every motoring era. The museum is open every day, except Christmas Day, from 1000hrs.
INFO
For more information phone 01590 612345 or visit www.beaulieu.co.uk