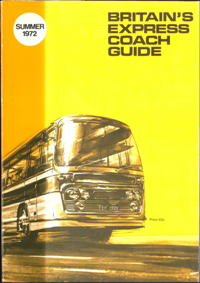 National Express is celebrating its 40th birthday this autumn after it published Britain's first 'national' coach timetable in 1972.
To celebrate the landmark birthday, the firm has released promotional footage and photos from the 1970s showing classic seaside days out and on board snacks served by hostesses.
The firm launched with around 300 vehicles carrying 13m passengers annually. The most popular destinations were London, Bournemouth and Blackpool but half the services ran at weekends only and a quarter were seasonal.
National Express has clocked up over two billion miles on Britain's roads since 1972 with 18m passenger journeys now taking place annually.
Andrew Cleaves, MD of National Express Coach, said: "We're proud to have carried millions of Britons on day trips, holidays and visit to friends and family during our 40- year journey.
"In 1972 half of our services were seasonal as people took holidays at distinct times, such as factory fortnight. Today a third of the network runs to airports and over half our tickets are sold online."
To help celebrate the occasion, National Express is offering a year's free coach travel for those sending in the best memories and stories of coach travel since 1972. The stories can be shared at www.nationalexpress.com/40
Watch the video at https://tinyurl.com/cuwtwvv