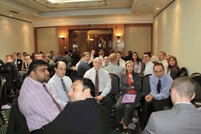 YMBN announces Olympic Park tour this month and March conference
The Young Bus Managers Network (YBMN) has announced technology as the theme of its spring conference in March as well as a free tour of the Stratford Olympics site later this month.
Taking place on March 21 and 22 in Brighton and featuring guest speakers Norman Baker MP and Arriva UK Bus managing director Mike Cooper, the conference will discuss the emerging innovations changing the industry's future thinking.
There will also be presentations and a panel discussion on the changing face of passenger information and ticketing, as well as new vehicle technologies.
"It's obviously very exciting for us that we're able to attract the big names from around our industry to give up their time on what is shaping up to be another two successful events," said Alex Hornby, patron of the YBMN and commercial director at trent barton.
"The YBMN is all about offering opportunities for greater understanding of issues affecting the industry and bringing likeminded people together so we can all benefit.
"Appreciating the transport challenges of the Olympics in 2012, an insight into one of the UK's biggest bus companies from Arriva's Mike Cooper, and the view of one of the industry's key decision makers, Norman Baker MP, are just three items on the agenda in our first two events of the year. These help to continue our theme of offering YBMN members an insight into key industry matters which cannot be missed!"
The conference costs an all inclusive rate of £144.50+VAT, including overnight accommodation at central Brighton's Lansdown Hotel, and evening meal, breakfast and refreshments throughout the day.
Meanwhile, a free visit to the Olympics site in Stratford is taking place on February 22 in conjunction with CILT and booking soon is encouraged as places are strictly limited. The visit will include a behind the scenes tour of the Olympics development. This will be hosted by Transport for London (TfL) and its commissioner, Peter Hendy will also deliver a presentation titled Meeting the Olympic Challenge.
This will involve talking through the new transport infrastructure being delivered, the logistical challenges and measures to make sure businesses and passengers are prepared.
To book a place on the free visit to the Olympics site, email [email protected] Visit www.youngbusmanagers.org.uk to book a place at the YBMN spring conference in Brighton.