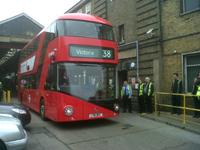 New Bus for London enters service on Arriva's routes 38 between Victoria and Hackney
The first New Bus for London (NBfL) entered service on Arriva's route 38 between Victoria and Hackney on Monday (February 27).
The NBfL (dubbed Borismaster) hybrid double decker will be joined by a further seven prototypes at a rate of one every couple of weeks as they roll off the Wrightbus production line. All eight are due to be in service by the end of May.
"It represents the very best in British design, engineering and manufacture and is a demonstration of what can be done given imagination and determination," said Boris Johnson. "But it's not just a pretty face. The green innards of this red bus mean it is twice as fuel-efficient as a diesel bus and the most environmentally friendly of its kind."
Managing director of surface transport, Leon Daniels, said: "This vehicle really has set a new standard. It utilises the latest cutting edge engine technology to deliver phenomenal fuel economy and emission performance. It has also been manufactured using a range of innovative materials and techniques. However, the most significant achievement of this whole project is the phenomenal speed with which a vehicle of this quality has been taken from the drawing board onto the streets to pick up its first fare paying passengers in a little over two years. That is really something."
A minor software glitch during its first run meant the bus was delayed for a few minutes. Leon Daniels added: "Any project of this scale and ambition is bound to encounter teething problems. A sensor needed tweaking. There will, no doubt, be other issues as we test the prototypes, but Londoners will be rightly proud to see this stunning piece of British engineering and design in service."
Johnson has been heavily criticised over the cost of the buses. The eight vehicles have cost £11.37m. In an open letter to the mayor, Tottenham MP David Lammy (Labour) pointed out: "With 62 seats at a cost of £1.4m, the cost per seat is £22,580. At £22,695, you can buy a brand new 3 series BMW."
Johnson believes as other operators order NBfL the unit cost will drop.
"When ordered in greater numbers it will make a significant economic contribution to the manufacturing industries, while also helping deliver a cleaner, greener and more pleasant city," he said.
Others are critical because they claim the buses are unlikely to have resale value anywhere outside London and residual values will be low. They don't believe other London operators will be keen to adopt NBfL and will shy away from the expense. Alternative hybrid double decker options are already considerably cheaper.
Defenders of NBfL say the hybrid system is extremely efficient and will deliver massive savings. Whether these, as yet unquantified, savings are equal to or above those currently being attained by other hybrids operating in London remains to be seen.
The prototype bus was unveiled by London mayor Boris Johnson in Trafalgar Square in December (CBW1017). Earlier this year the bus undertook a tour, which included eight London boroughs, with more than 10,000 people viewing the bus during the tour. It has since been undergoing the final testing, certification and licensing to enable it to carry passengers.