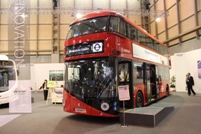 London's route 24 will become the first bus route in the capital to be served entirely by a fleet of Borismasters.
The service, operated by Metroline, runs from Hampstead Heath to Pimlico, via Camden, Trafalgar Square, Parliament Square, and Victoria and operates 24 hours a day. During peak hours, 27 of the new buses will be in operation for the 28,000 passengers who use the route daily.
Delivery of 600 NBfLs over the next four years has been approved by the TfL Board, in line with the Mayor's election manifesto. This represents the largest order of hybrid buses ever placed in Europe.
Boris Johnson said: "I am thrilled to confirm that route 24 will be the first in London to be converted to run an entire fleet of these new buses, which will be the cleanest and greenest of their kind. That particular route runs right through the throbbing heart of the capital and Londoners will be able to hop on and off at their pleasure via the open rear platform."
Leon Daniels, TfL's MD of Surface Transport, said: "These new buses, which carry the latest green technology, have proven immensely popular with passengers. We are now introducing more and more of them as we build and expand the biggest hybrid bus fleet in Europe. But it's not just about the technology – I'm sure passengers on the route 24 will also be delighted with the ease of access and the iconic and spacious design, which echoes the best elements of London's bus heritage."
TfL hopes to have to route fully converted by the summer.