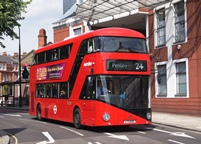 Transport for London (TfL) is considering the purchase of a further 200 New Routemaster buses and is looking to improve ventilation on the fleet.
The TfL board previously authorised managers to buy 600 of the vehicles from Wrightbus and is being asked by TfL's Finance and Policy Committee to sanction the purchase of an additional 200, to be used in service by the end of April 2016.
The original order is worth £212m to Wrightbus which is currently in negotiations with TfL over the cost of the additional 200 vehicles.
Papers for the meeting claimed the buses are popular with passengers, claiming than 86% of passengers interviewed agreed the New Routemaster is accessible and convenient, 71% recognised the green technology used by the vehicle and said it is a new London icon.
However there have been regular complaints from passengers about the lack of opening windows and temperatures within the vehicles.
The documentation says: "TfL is currently assessing the air cooling systems on double deck buses in the fleet with the aim of improving comfort, particularly in response to especially high temperatures experienced in summer 2014.
"Current options under consideration include better insulation around areas such as the engine compartment, improved ventilation and remote monitoring of saloon temperatures.
"More powerful air conditioning systems are not advocated as these would prevent the bus fleet achieving Mayoral air quality goals, including reducing nitrogen oxides by 20 per cent compared to 2012 levels by the end of 2015."