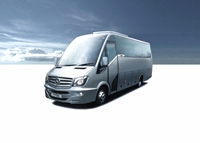 Company calls the new development a 'radical new design' which offer 33 seats
Brian Noone Ltd of Maynooth, Ireland has confirmed that its 'all new' successor to the highly popular Vario based Turas 800 will be introduced at Euro Bus Expo 2014. The Mercedes-Benz Atego-based Turas 900 will be exhibited in association with the company's agent, Minis to Midis.
The new model, which the company describes as a radical new design, will offer 33 seats plus courier, cab and saloon air conditioning, double glazing and approaching six cubic metres of luggage space. The nine metre body mounted on 9.5 tonne chassis will be available with two engine options and Brain Noone says it will feature easy nearside entry for passengers and crew and a whole new interior design.
Mark Noone commented: "Free from the constraints of weight associated with the 8.2t Vario we have been able to take the 33 seat coach to a whole new level whilst retaining the important attributes of easy entry and low operational costs."
Speaking for Minis to Midis, Alan White added: "The new design has been well received in individual presentations to customers and we can report pre-launch orders already in double figures."
The first UK operators to commit to purchasing the new vehicle were Cardiff based Wheadon's and Golden Boy of Hoddesdon. The first delivery will go to Sovereign of Rousdon near Lyme Regis.