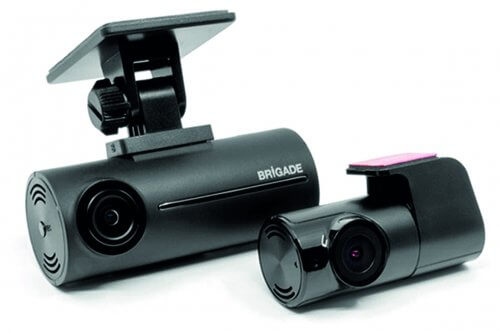 Brigade Electronics has launched a new range of dash cameras.
Features of the new dash cams include:
High definition footage;
GPS tracking data post recording;
Full colour control for optimised nighttime recording;
Wide dynamic range function to eliminate bright spots on footage;
Designed with a super capacitor, which automatically provides backup power in the event of a power failure ensuring no data is lost and recordings are safely stored; and
Optional locking box and key to prevent theft or tampering.
Available as a standalone camera (DC-101-000), standalone with additional rear camera (DC-102-RVC) and standalone with additional infrared camera (DC-102-IRC), each camera in Brigade's range is available with four recording modes: Continuous recording – activated automatically when the engine is started; parking recording – while the vehicle is parked in a stationary position, the dash cam will record anything that triggers the incident through its motion detection system; event/incident recording – this mode uses the build in G sensor to record footage before and after a collision; and manual recording – similar to a video camera, capture events that occur in front of your vehicle, whether it is in motion or not, by pressing a button.
Brigade's standalone dash camera includes a 16GB micro SD card while both dash cam bundles come with a 32GB micro SD card. All of Brigade's dash cams have a GPS antenna, which can pick up locations and speeds via PC Viewer software.
Emily Hardy, Marketing Manager of Brigade Electronics, said: "Incidents involving vehicles are time consuming issues to resolve and are becoming more frequent.
"A lack of solid evidence can often mean companies automatically accept liability. Our new dash cam range is ideal for recording incidents on the road, helping to prevent false claims and vandalism.
"Installing a dash cam will give drivers and operators peace of mind in the event of an incident."