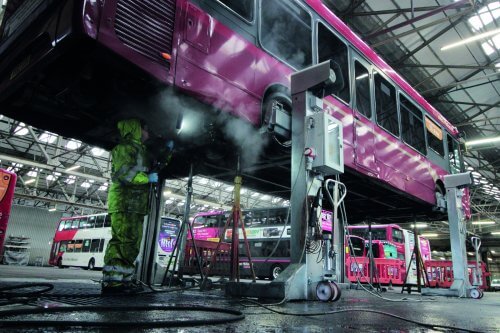 National Express West Midlands has installed Totalkare mobile column lifts for vehicle washing at its West Bromwich depot.
The depot had been using a third-party to clean the underside of its vehicles ahead of MOT tests. However, its recent investment in a set of Totalkare's purpose-designed wash bay mobile column lifts, housed on-site, has reduced those third-party costs and improved fleet availability, meaning buses can be back out on the road sooner than before.
While there is no specific requirement to have the underside of a vehicle washed before its MOT, buses out on the road all day every day can benefit from an underside clean to ensure examiners can clearly inspect it during the test.
Totalkare's G8AC wash bay mobile column lift is the UK's only mobile column lift specifically designed for outdoor use, says its manufacturer.
It's fully galvanised with sealed bearings, and is purpose-built to give long-term protection from water ingress, making it ideal for wash bay applications.
With a safe working load capacity of 7,500kg per column, its adjustable forks can accommodate a range of wheel diameters and the columns themselves can be configured in sets of four, six or eight depending on the number of axles on the vehicles being lifted.
Easily manoeuvrable, the G8AC requires no installation or ground preparation work before use, making it more flexible and cost effective than a permanent vehicle wash installation.