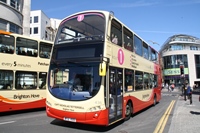 In a consultative ballot held on Thursday, May 26, 497 Unite members at Brighton and Hove Buses voted in favour of a full industrial action ballot – with 33 voting against, Brighton & Hove News reported.
In light of this, the union said it is now considering options and formulating a plan of action, with talks between the union and management continuing.
Martin Harris, Brighton and Hove Buses Managing Director, commented: "We met with Unite last week and discussed a number of matters that they raised, and have positively committed to several measures as part of our constructive response to their concerns. We are continuing that dialogue with Unite."
Following the announcement of the ballot last month, Brighton and Hove drivers reportedly commented on drivers being called while off sick and being called late at night to work early shifts starting in a few hours' time.
A quote attributed to a Brighton & Hove driver read: "Having worked for the company for several years, I can truly say that this is the lowest I have ever seen morale.
"Drivers are feeling the pressure from services missing from routes due to no take over drivers or lack of buses. The company's answer – let's harass everyone to do more."
The aim of the consultative ballot was to 'indicate the memberships' wish to move to a full legal ballot.' This means that no industrial action is allowed at this stage, this can only be legitimately taken after a full legal ballot.