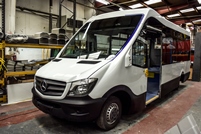 Low-floor vehicle specifically engineered for stage carriage work and able to carry 22 passengers, with space for two wheelchairs
Mellor Coachcraft has confirmed that it is about to launch a Sprinter-based 22-passenger low-floor bus, which has been Christened the Strata.
Aimed at the stage carriage market, the coach-built vehicle has space for two wheelchairs in the low-floor area, thanks to extra width which has been created within its coach-built body. Mellor claims the Sprinter will offer significant fuel savings over most current, rear-engined midi-buses.
Re-engineering has been undertaken with the full co-operation of Mercedes-Benz, which has formally approved the chassis work. This has involved lowering the prop shaft to sit below the central, low-floor section, among other changes. Mellor has used computer aided design technology to create the body frame and mouldings.
The Strata's specification includes destination displays, a ticket machine platform, single-step entry, fold-out wheelchair ramp, bell pushes and 'bus stopping' display. Mellor said it meets all current stage carriage regulations, including DDA.
While options such as three-point seatbelts and different seating options could also see community transport organisations and local authorities buying the Strata for community duties, the vehicle has been primarily engineered for fare-stage, mainstream bus use.
Mellor General Manager, John Randerson, explained: "There is always innovation in the bus market.
"Recently, Stagecoach's order for 30 low-floor minibuses signalled a change in bus fleet demand which the Strata will satisfy.
"This new design reflects Mellor's ambition to produce vehicles that reflect operators and users demands for fuel efficient, cost effective and environmentally friendly integrated transport solution. The market should expect to see further exciting developments in our vehicle line-up in the coming months."
John said creating the Strata used core coach-building skills both at its Rochdale production unit and at Mellor's satellite engineering facility in Scarborough.
"We have used the Sprinter as a base vehicle because the driveline has a reputation for performance and reliability, coupled with low running costs and a huge dealer network," he said.
"We expect the Strata to deliver 22-25 miles per gallon, which could potentially halve fuel costs on some routes. In addition, the Strata will excel in narrow streets and housing estates, where parked cars are a major headache for bus drivers."
The Strata is 7.5m long and 2.3m wide – 30cm wider than the base vehicle – giving a large, 2.2m-wide interior saloon on two levels.
The electric sliding door leads into a wide door aperture for passenger and wheelchair access, while the Strata also has a rear emergency door on the offside.
John stated that production of the Strata will begin in July. He added: "Over the past three months there has been significant industry consultation to ensure that the product meets the needs of the industry. This has led to significant order commitment."