Go-Ahead Group owned Brighton & Hove Buses is to freeze certain fares when its pricing is revised on 15 January. Frozen fares will include: city single, short hop, centrefare, network SAVER and city SAVER adult tickets; family tickets; the young persons' accompanied BusID and BusID fares for children travelling on the weekends, holidays or school day evenings.
Journeys operating out of the city will see an increase of 10p for a single and 10p to 20p on returns, however returns from Seaford, Newhaven, Lewes to Brighton will be frozen.
Brighton & Hove Buses' Managing Director Martin Harris said he had tried to freeze or reduce as many bus fares as possible but increases on some fares could not be avoided: "I do understand that any sort of fare increase can be unwelcome but we've frozen many fares, reduced some and only marginally increased others, from a genuine desire to balance the need for ongoing investment and match the costs of the business with the pressure on people's budgets."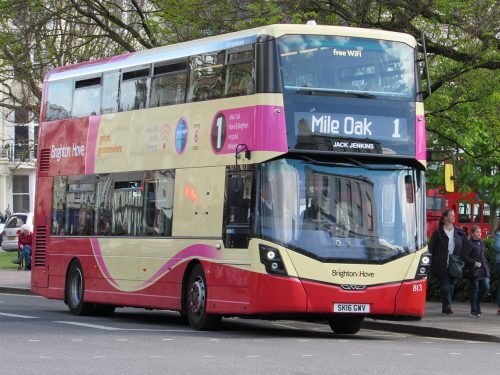 Commenting on pollution and future investment, he said: "We're not the only vehicles that have historically generated city centre emissions and, despite progress, and the fact that bus travel improves emissions compared with car travel, we remain committed to doing more to improve the city we live and work in.
Ignoring emissions and climate change would be irresponsible and we're facing the issues head on, but it doesn't come cheap. We've estimated we need to spend £172m on new buses so that our buses are playing their part in an emissions-free city centre by 2030."
Brighton & Hove spent £7.6m last year on ultra-low emissions buses at a cost of around £200,000 each.