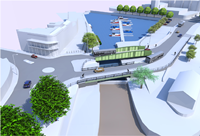 The 2.5mile segmented busway should be operational by the summer of 2016
The Department of Transport (DfT) will fund up to £34.5m of the £45m that will be spent to improve Bristol's public transport with a new rapid bus network.
The city will gain better bus connections between key areas of employment, housing, retail and leisure. The network will reduce congestion, help create regeneration, and support new jobs and homes.
Transport Minister Baroness Kramer said: "The Bristol Metrobus will provide a step change improvement for public transport serving in the city and surrounding communities. Buses will be able to get around quickly, travelling along dedicated busways and priority lanes around Bristol and into the city centre. The new link will stimulate economic development and link communities with jobs.
"Our £34m investment towards the network shows we are serious about funding the infrastructure needed in this country to drive economic growth."
The Metrobus will encourage car drivers coming into Bristol to use public transport instead. Existing bus services in the west of the city will be able to use the new infrastructure with swifter travel times.
The rapid transit scheme will supply a new bus service from the south west of the city to the centre on a new 2.5-mile segregated busway from the Long Ashton Park and Ride site. The dedicated busway follows former rail routes and will feature a new bridge over the Bristol to Portishead rail line. The city centre section will run on existing roads with added bus lanes and upgraded junctions.
The Joint Transport Board of the West of England commented: "This is really positive news ? we are delighted to have received full funding approval from the Department for Transport for the Ashton Vale to Temple Meads route of the MetroBus network.
"We can now finalise everything with our contractors and actually get on with construction work.
"If all goes according to plan the first services, providing a modern public transport route that is faster, more reliable, and more comfortable than existing bus services, will be running in the Summer of 2016."
The work is due to be completed in April 2016.