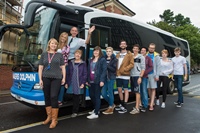 Bakers Dolphins donated a coach to Teenage Cancer Trust so that young people with cancer from the South West of England could go on an exciting trip to Longleat Safari and Adventure Park.
The trip gave a much needed break from cancer treatment to the young people, aged between 13 to 24 years old, as well as providing a way of meeting others from the same age group sharing the same experience.
Amanda Harrington, Sales and Marketing Director of Bakers Dolphin said: "We have been supporting cancer charities this year with sponsorship of the prostate cancer Run For The Future event later this month and providing a coach for those raising money for Penny Brohn Cancer Care at the Moonwalk.
"Almost every family is touched by cancer and it can strike at any age. We were pleased to be able to help Teenage Cancer Trust by providing transport."
Bridget Woodard, Teenage Cancer Trust Fundraising Manager, said: "We've been impressed with the incredible enthusiasm of Bakers Dolphin to support the vital work of our Teenage Cancer Trust Youth Support Coordinator and would like to thank everyone involved. It was a great day out and a huge benefit to the young people who went to Longleat."