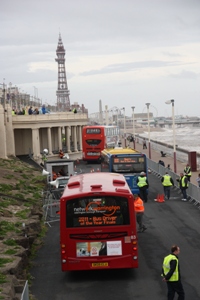 Contest enters 47th year and takes place on Sunday, September 8
The National Final of the UK Bus Driver of the Year (BDoY) competition will take place in Blackpool on Sunday, September 8 and entries have been invited from operators which have regularly supported the competition, but the organisers are especially keen to hear from those who have not previously taken part – not least the smaller operators and those new to the bus business.
Joe Mackie, Chairman of the UK Bus Driver of the Year Association, which runs the competition, said the 2013 National Final marked 47 years of BDoY which was first run in 1967 as a local contest in Coventry and subsequently grew into a national event. "We would be delighted to welcome smaller companies – and those new to the industry," he added. "BDoY is there for all operators – large or small, whether independently or municipally owned or part of a plc – and the really good news is that we have been able to hold the entry fee at the 2012 level."
Last year's overall winner, and UK Bus Driver of the Year 2012, was Paul Jarvis from National Express West Midlands' Birmingham Central Garage, who beat 91 other top-ranking competitors from the length and breadth of the country.
Entry forms should now have been received by all companies which have previously participated in the competition, but operators who would like to become involved – or are considering coming back to BDoY – are invited to contact the Competition Secretary, Bill Holmes, on 01303 251462 or at bdoy@ btinternet.com .
Bus Driver of the Year's event is hugely popular with all those who take part, not least with the attractions of Blackpool on hand for the families and friends who loyally support the national finalists every year.
Visit the BdoY website at www.bdoy.co.uk