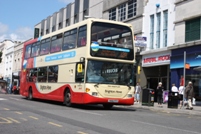 Brighton & Hove has launched a new mobile ticketing system powered by Corethree's award-winning Core Engine integration platform.
The operator has consistently invested in new technology, including CCTV on buses, GPS tracking and next stop displays and announcements. Delivering m-ticketing offers an easy way to purchase tickets and board buses, with discounts will be offered to those who use the new service regularly.
Chris Kirk, Commercial Manager for Brighton & Hove Buses, said: "Brighton & Hove Buses are very pleased to have the opportunity to launch such cutting edge technology in our fast paced and cosmopolitan town. Our society advances by extending the number of important jobs we can perform without thinking of them. Our M-Ticket app will be an extension of this inevitable and exciting technology."
The mobile ticketing system is usable on iPhone and Android devices carried by passengers making 48 million journeys on Brighton & Hove buses every year. Bus passengers can browse, select and then purchase bus tickets using their smartphone, with one-time registration of payment details and on-screen tickets which can be used within seconds of purchase.
Due to the natural take up of new technology, Brighton & Hove buses has targeted the large population of students in Brighton as the first to use the service. Routes 23, 24 and 25 have been initially targeted to trial the service, with further routes being added as take up of the services grows.
Corethree's CEO, Ashley Murdoch, said: "Mobile ticketing and live services information are becoming increasingly popular with UK transport operators as they realise the benefits of operational efficiencies and provide a more enhanced customer experience. Corethree is proud to be supporting Brighton & Hove Buses. We will continue to provide product innovation and look forward to the next phase of enhancing these mobile services."
For further details on Corethree, visit www.corethree.net