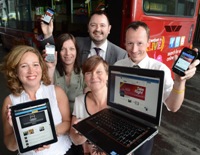 trent barton has been included for the second time in a list of 100 companies, recognising them as the best in their field at communicating with customers through social media such as Facebook and Twitter.
The Social Brands 100 list was selected following detailed research of the social media sites of over 700 organisations and places trent barton ahead of many household names such as British Airways, Coca Cola the BBC and John Lewis.
Alex Hornby, the operator's Commercial Director, said: "This is a great result for our trent barton live team who work round the clock to keep customers informed on our social media sites. Facebook and Twitter have become an invaluable form of two-way dialogue that enables us to communicate and get to the heart of our customers' thoughts and needs. Over 32,000 people follow our range of social media sites to date.
"For a locally-owned East Midlands business to share the spotlight with big budget, international super-heayweight brands, and us being the only bus company to feature at all, is a huge achievement and I'm really proud that our team's efforts have been recognised."
In the specific travel category of the Social Brands 100 trent barton is ranked 14 and is joined by fellow operators Go North East, ranked 24 and Lothian Buses at 26.
Stephen King, Marketing and Sales Manager at Go North East, said: "For a regional bus company to be hailed as a leader in social media engagement on a national stage is a great achievement. We are incredibly proud, to say the least.
"We were a relatively early adopter of social media as a means of communicating and engaging with our customers and this has transformed the effectiveness of our customer service. Our passengers love being able to interact with us easily and in a timely manner."