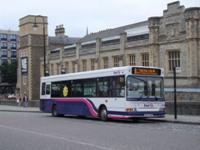 FirstGroup has confirmed a number of senior managerial appointments for its restructured South West and Wales region. As previously reported, since Monday (June 3), the region has been split into four separate business units, each headed by an MD who reports directly to the UK Bus COO, Jeroen Weimar.
The boundaries of the different operating areas have also been changed. Specifically, Somerset has, for operational purposes, become part of the Devon and Cornwall operating area, while Berkshire has joined with the current Hampshire and Dorset business.
Justin Davies, previously the Regional MD for the South West and Wales, has moved to manage the Cymru business. Justin's new role will see him oversee the changes, particularly around funding streams, which are currently taking place within the Welsh bus industry.
As such, First Bristol is now recruiting for a permanent MD for the Bristol and Avon business, and is managed by Paul Matthews, the current Service Delivery Director for the area.
Marc Reddy has been appointed as MD for Hampshire, Dorset and Berkshire. Marc is supported in this role by Chris Bainbridge, the current Service Delivery Director for the South Coast.
Career busman Alex Carter has been appointed as a new Director for Devon, Cornwall and Somerset and joins the business having worked in the industry for more than 25 years. Having previously managed Go-Ahead's South Coast operations, he has spent the past six months working with First on business development.
Supporting him in the role is current General Manager for Devon and Cornwall, Robbie Lamerton.
Jeroen Weimar, COO of UK Bus, said: "We are making these changes because we recognise the unique circumstances, dynamics and requirements of the cities, towns and villages we serve across the South West and South Wales. We are keen to build on the good relationships we have with our customers and local stakeholders to ensure we can meet and exceed their expectations."