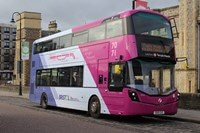 South East and particularly the South West buck the trend as the majority of England sees patronage down year-on-year
The Department for Transport (DfT) has released quarterly bus statistics for July to September, 2015.
Overall, the number of local bus passenger journeys in England was 4.61 billion in the year to end September 2015, a 1.3% decrease on the previous year.
Bus use in London saw an decrease of 1.1%, a change from the usual upward trend. This was attributed to congestion and road works in the city.
The DfT also highlighted that over the same period, fares have risen by 3.0% on average, faster than the Retail Prices Index rate of inflation (0.8%).
The statistics showed something of a north-south divide in terms of bus patronage growth. The North East saw a decline from 188.3m journeys in 2013/14 to 184.9m in 2014/15, while the North West fell from 454.7m to 447.0m. Yorkshire and the Humber also saw a decline from 345.4m to 340.0m, with the East Midlands dropping from 208.1m to 202.6m and the West Midlands falling from 360.5m to 350.0m.
The East of England fared better, with a fall of 2.8m to 186.5m.
In contrast, the South East saw patronage growth from 355.8m to 356.1m, while the South West saw substantial growth from 210.8m to 216.6m.
While much of the overall patronage decrease was attributed to bus cuts, there were suggestions that fare increases were also causing passengers to choose other forms of transport.
Addressing concerns about bus fares increases in a BBC report, a National Express West Midlands spokeswoman said a quarter of passengers, such as those using smartcards or family daysaver tickets had seen their fares frozen, while the company was also investing £4m in new buses.
"Fuel makes up a fairly small percentage of National Express' costs," she said.
"The largest cost came from wages, and the company was proud to have recently become a Living Wage employer."
The spokeswoman added: "Like many companies, National Express buys its fuel a long time in advance. This enables us to plan ahead, smooth out costs and not be affected by every price fluctuation at the pumps."
The company said cheaper petrol, online shopping and the decline of the high street may have contributed to the decline.
Martin Abrams, from the Campaign for Better Transport, said: "Across the country, we are seeing a very worrying trend of declining bus usage, a decline which correlates with the huge funding cuts to local authority supported buses we've seen over recent years.
"We really are in danger of seeing whole networks of bus services being lost. Buses play a crucial role in helping people to access jobs, shops, education and are a lifeline for older people ensuring they are not left in isolation.
"Passengers will want to know why low fuel prices can't be reflected in lower bus fares."