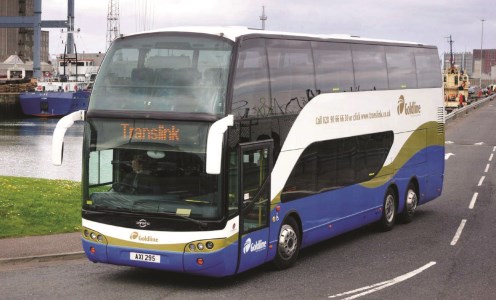 Passenger numbers for rail and bus have increased by 2.7m in the last two years
Over 80 million passenger journeys were made on Translink bus and rail services in 2013/14 – beating Northern Ireland Government targets of 78 million.
The figure was revealed following the launch of Translink's Annual Review 2013/14.
Significantly, over a million more fare paying passengers chose to use the bus or train compared to the previous year and, over the last two years, Translink has increased patronage by 2.7 million.
Speaking about last year's performance, Gordon Milligan, Translink Interim Group Chief Executive, said: "Customer satisfaction remains at a high level. This is down to us delivering good quality bus and train services with great customer care and good value fares.
"Highlights of the past year include significant investment in our bus fleet with last July's announcement of over £30m funding for new Metro buses and Goldline coaches.
"Ulsterbus also introduced 23 new interurban buses on key routes across Northern Ireland. In particular, customers are enjoying the added benefit of free WiFi now on board all Goldline coaches along with leather seating, additional leg room and timetable enhancements – indeed passenger numbers have grown by over 45% on Goldline in the last 10 years.
"To compliment these fleet enhancements, we continue to offer customers attractive travel tickets with good value-formoney – our bus and rail fares remain frozen for the second time since 2011 offering increasingly affordable travel choices. We have invested in customer information services and ticketing with a new mobile website and Journey Planner app.
"Our bus passengers can now benefit from the introduction of 'dayLink' – a new smartcard providing flexible unlimited day travel in Belfast for adults and children. We also launched a 'Life's better' campaign to outline all the lifestyle benefits of passenger transport.
"Park & Ride usage has continued to grow and we are looking forward to opening a new 520 space facility in Dundonald later this year which will be an important development to support the new rapid transit network. 'Eco driving' technology was successfully introduced across the bus fleet reducing overall fuel consumption.
"Key infrastructure developments included the construction of Northern Ireland's first environmentally sustainable, integrated bus and rail station opened in Antrim and a substantial refurbishment of Portadown train station. These improvements ensure our customers and employees enjoy attractive facilities and support further growth in passenger numbers.
"We have been able to deliver this considerable investment in our services due to essential funding from the Department for Regional Development and our performance continues to meet public transport requirements as laid out in the programme for Government.
"Our services have transported thousands of additional passengers on special and scheduled services to and from major events, most notably the World Police and Fire Games, UK City of Culture programme, Balmoral Show and the G8 Summit. "Looking ahead, we believe more people using passenger transport is at the heart of a healthy, sustainable and vibrant development for Northern Ireland and we will strive to deliver our service efficiently, giving our customers excellent, value-formoney travel choices."