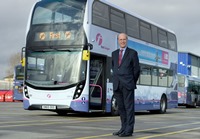 Operators, associations and campaign groups respond to the now public Bus Services Bill
Since its announcement, the Bus Services Bill has been making waves in the industry, with opinions coming in from both ends of the spectrum.
A number of key players in the industry have responded to CBWs request for comment on the Bill, as can be seen below:
> Campaign for Better Transport (CBT)
Responding to the new powers in the Bus Services Bill, the Campaign for Better Transport (CBT) welcomed the announcement, but warned that the Government is at risk of focussing on the futuristic technology revealed in the Modern Transport Bill at the expense of everyday transport.
Stephen Joseph, Chief Executive of Campaign for Better Transport, said: "Autonomous vehicles and space ports are all well and good, but most people would prefer to see their everyday transport sorted out first: the Bus Services Bill will be a step in the right direction.
"The Bill will give local authorities which have agreed devolution deals, and maybe others, more power to plan and manage local bus services. This should help authorities tempt people out of their cars into buses in our cities, but it must also ensure people living in isolated, rural areas are not forgotten and that they also benefit.
"Over the last few years we have seen bus services badly hit by cuts to local authority budgets so additional powers in the Bus Services Bill must come with assurances over funding to deliver better services."
> Local Government Association (LGA)
The proposals in the Bill regarding bus service franchising suggest that the powers to franchise services are limited to areas with directly elected mayors.
The Local Government Association (LGA) has said that giving such powers to all local authorities would 'help them deal with big predicted increases in road traffic and provide better services.'
Cllr Peter Box, LGA Transport Spokesman, commented: "Franchising should be available to all local authorities who wish to improve bus services in towns, villages and rural areas that are poorly served at present. It should not depend on having a directly-elected mayor.
"To protect cherished bus services, which remain under threat as councils continue to receive less money from government to provide all services over the next few years, the option to franchise needs to go hand in hand with the devolution of bus subsidies. Handing councils control over the Bus Service Operators' Grant – a fuel duty rebate paid directly to bus operators by the Government – would help them support vital routes and the roll-out of smart ticketing.
"We will now seek to work with the Government on the detail of the Bill to ensure that the legislation is simple, streamlined and easy for councils to implement."
> CPT UK
The Confederation of Passenger Transport UK (CPT) gave its comment on the new Bill, promising to 'work with the Government and all key stakeholders to ensure that the Bus Services Bill produces the best possible results for passengers and bus operators alike.'
A spokesperson said: "CPT and its members fully support the move towards devolution as local bus services serve local bus markets.
"We firmly believe that the best results for passengers are achieved when operators work together in partnership. We are convinced that passengers outside London are best served by a commercial regime which has stemmed the decline in patronage and given bus operators the flexibility to respond to passenger needs and aspirations, developing their services accordingly.
"When bus operators and local authorities work together in partnership, real benefits for the passenger are achieved. Partnership working has seen passenger numbers rise, complaints fall, and has kept fares affordable.
"The CPT supports the Government's proposals in the Bill for advanced quality partnership schemes and enhanced partnerships. Where such an arrangement offers the best opportunity for growing patronage whilst allowing operators to innovate, develop their services and retain their commercial freedom, the industry will work with local authorities to ensure the best possible deal is achieved for passengers.
"But where local authorities consider introducing franchising CPT is pleased to see that those proposals will be subject to robust and fair public and financial tests, and that the Bill aims to allow SME operators to compete fairly.
"The industry supports the Government's proposal to ensure that passengers are able to access full data on routes, timetables and fares. Much of this information is already available through Traveline, which is a partnership between transport operators, local authorities and passenger groups.
"CPT and the industry will continue to examine the provisions contained in the Bill and will follow its progress through Parliament. "
> FirstGroup
'Big 5' operator First Bus has welcomed the 'stronger arrangements' to allow local government and bus operator partnerships.
Managing Director of First Bus, Giles Fearnley, said: "We passionately share the aim of national Government and local councils to improve services for all passengers using buses to help solve the UK's chronic congestion issues, improving air quality and reducing carbon emissions.
"Our experience in many places including Bristol, Cornwall, Sheffield and Leeds clearly demonstrates that working in strong partnership with local government is the best, quickest and cheapest way to improve services, and attract more people to bus travel.
"We are delighted the strengthening of partnerships is an option for local authorities, and look forward to working with MPs and peers to ensure that we have legislation that delivers benefits for customers."
> ALBUM
The Association of Local Bus Company Managers (ALBUM) also commented on the Bus Services Bill: "Our initial read of the Bill gives us a degree of cautious optimism that a balanced and workable future for the industry has been struck.
"Much will depend on the attitude of individual authorities, and we stress that the Minister has repeatedly said in speeches, and the Department's policy Overview published simultaneously with the Bill confirms, that 'do nothing' – the status quo – is a policy option for authorities. We hope that local authorities will recognise that but it is regrettable that the Bill does not spell this out.
"We welcome the Advanced Partnership and Enhanced Partnership options as alternatives to franchising/contracting, but we are concerned that some of the conditions outlined in the Bill appear to undermine the proven ability of operators and the commercial market to provide the right services at the right fares to encourage bus use.
"In the proposed franchise model we welcome the specific references to the role of SMEs in the provision of local bus services, and our members will work positively with those authorities that seek this regulatory model for bus services in their area. That said, we remain convinced that franchising/ contracting is not the best solution for bus passengers or operators, and urge authorities to give proper consideration to the other tools already available to them to grow bus ridership, as well as those extra ones contained in the Bill, and to ensure that they are fully deploying them all before making the massive, once in a generation, leap into the dark of market closure.
"We will be making these and other relevant points in our response and we look forward to positive discussions to best ensure that the Government's objectives to increase bus use are achieved."
> Bus Users UK
Claire Walters commented on behalf of Bus Users UK: "The Buses Bill has pushed buses further up the political agenda and provided much needed clarity over the power of local authorities to run their bus services.
"This is a great opportunity for the needs of passengers to be at the forefront of local transport planning and we will be working closely with local authorities and bus operators to ensure that this is indeed the case."
> Transport for Greater Manchester (TfGM)
Transport for Greater Manchester (TfGM) welcomed the publication of the new Bill.
Cllr Andrew Fender, Chairman of the TfGM Committee, said: "Under a franchised system the elected Mayor for Greater Manchester will have the ability to decide the routes, frequencies, timetables, fares and quality standards for bus services in the city-region.
"This will help deliver a consistent, integrated transport network and make it possible for every passenger to use their tickets on any bus in Greater Manchester, as well as other forms of public transport.
"It will place the customer at the heart of Greater Manchester's transport network and enable the reinvestment of funds back into transport."
> West Midlands ITA
Transport chiefs from the West Midlands region have also welcomed the proposals.
Cllr Roger Lawrence, Chairman of the West Midlands Integrated Transport Authority (ITA), commented: "These proposals to devolve more powers to our region would give us a range of effective tools and methods for improving bus services as part of a fully integrated transport network.
"One of the significant benefits we see in this bill is the ability to further strengthen our existing partnerships with local bus companies to give passengers simplified fares and make sure all our communities benefit from frequent and reliable services.
"We believe the range of options contained in this proposed legislation can help make sure we have convenient, comfortable and affordable bus travel.
"That will give people a real and attractive alternative to using their cars, helping to cut the congestion and pollution damaging our local economy and environment."
> Urban Transport Group
Frank Rogers, who leads for Urban Transport Group on buses, commented: "This new legislation offers the prospect of a 'fresh start' for the bus by giving cities a range of more effective tools with which to improve bus services.
"The Bill includes a simpler route for city region authorities to franchise networks of bus services in the same way that London does as well as giving us better ways of making the existing deregulated market deliver greater benefits for passengers.
"The bus is the main form of public transport in our urban areas but at present the city regions outside London lack the powers they need to ensure that bus services are planned in a way which meets the needs of our growing economies, the environmental challenges we face and passenger needs. This will be the third piece of legislation on buses since 2000 so it's vitally important that we get the detail right this time in giving us a legal framework with which to improve services which is fair, proportionate and straight forward.
"We look forward to playing our full part in ensuring the debate on the legislation is informed by what our city regions need to do an effective job in providing more integrated, better quality and greener bus services."
> Guide Dogs
In support of its 'Talking Buses' campaign, Guide Dogs is in agreement with the changes proposed in the Bill.
James White, Guide Dogs' Senior Campaigns Manager, commented: "The Bill will be the most substantial piece of bus legislation since deregulation in the 1980s.
"The charity Guide Dogs feels this offers the ideal opportunity for new buses in England to be made fully accessible to people with sight loss through the installation of audio visual announcement systems. Too many people living with sight loss miss their stop because they don't know where they are, this has to end."