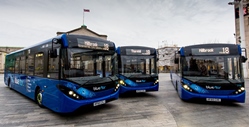 Operator invests in 32 Euro 6 Enviro400s, along with 13 Enviro200s and four DDA-compliant Plaxton Elite coaches
Go South Coast, a subsidiary of Go-Ahead Group, has concluded a £10m deal with Alexander Dennis Limited (ADL) which will see the introduction of 49 vehicles – including double-deckers, midi buses and coaches – over the next nine months.
Andrew Wickham, Managing Director of Go South Coast, commented: "These state-of-the-art vehicles form part of our on-going investment in modern buses                and coaches that enhance the customer experience.
"They also demonstrate our determination to stay at the forefront of the industry by providing greener, cleaner vehicles that play their part in encouraging people out of cars and on to public transport.
"The current ADL range, reaching across midi buses, double-deckers and luxury coaches is amongst the best in the world, combining stylish, eco-friendly features with vehicle performance – and setting the pace in terms of improving the passenger experience. We look forward to strengthening our relationship with ADL and introducing these new vehicles progressively during the next nine months."
Among the new vehicles are a total of 32 Euro 6 Enviro400s. These include 17 high specification inter-urban vehicles which will run between towns and cities on the south coast. They will be complete with tables on the upper deck, WiFi, USB charging points, high-back seats, mood lighting and wood effect floors.
The 32 Enviro400s also include three high specification vehicles fitted with multi-lingual commentary systems. These will operate on tourist journeys to Stonehenge, while a further 12 10.9m double decks will run on urban and inner-city routes in the region.
In terms of single-deckers, Go South Coast has ordered 12 high capacity, 39-seat, 11.5m Enviro200 midi buses, plus one 8.9m Enviro200 which will join other short-length vehicles operating on the Isle of Wight.
Completing its acquisition programme for 2015-16, Go South Coast will also introduce four Plaxton Elite coaches which will operate as part of its Damory and Tourist brands. These will be 12.6m coaches built on the Euro 6 Volvo B11R chassis. Each coach will have 51 seats, centre sunken toilets and DDA-compliant lifts to help wheelchair and disabled passengers.
Martin Brailey, ADL's Sales Director for London and the South East, commented: "We are, as always, delighted to be building on our long-established relationship with Go South Coast.
"This is a classic example of what can be achieved by seeking a one-stop solution through a manufacturer that can deliver and support a broad range of market-leading products, backed by an unparalleled team of parts and service experts.
"This business win is the latest in a series of contract arrangements struck between ADL and regional operations of the Go-Ahead Group and we look forward to that relationship growing and flourishing in the years ahead."