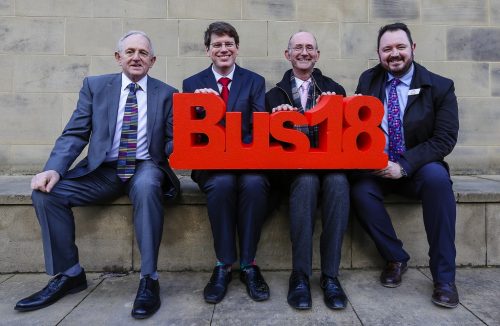 The West Yorkshire partnership between First, Transdev, Arriva and WYCA is stated to be a great success, introducing a successful multi-operator smartcard, new measures to tackle congestion and £23.5m of new buses
Bus18 partners First West Yorkshire, Arriva Yorkshire, Transdev Blazefield and the West Yorkshire Combined Authority (WYCA) have announced that over the last 12 months there has been 'major progress on bus improvements' across West Yorkshire.
By working together, the operators said they are 'making things happen' including technological advancements with the release of the MCard app, a £23.5m joint investment in new buses, and a package of improvements for young bus passengers.
Bus18 was launched in March 2017 by the three operators, who form the Association of Bus Operators in West Yorkshire, along with WYCA. The initiative's three main objectives are to make buses easy to use, to reduce emissions and to improve the customer experience.
The MCard android app, which enables customers to buy their ticket and upload it directly onto their MCard wherever they are, has proved hugely popular since its launch in August 2017, with over 16,000 multi-operator young people's tickets purchased every month via the app.
Over £1m is also being invested by WYCA to improve congestion hotspots. The programme has already commenced with four of the schemes already completed, including Croft Street to Bowling Back Lane and Whetley Hill to Abbey Road in Bradford, Santingley Lane in New Crofton and Southfield Road in Knottingley. WYCA said the majority of all schemes should be completed within 12 months.
The operators are also introducing a process to monitor and publish punctuality progress jointly. They have also scrapped the need for an identity pass to be shown in order to obtain half fare travel if pupils are in their school uniform.
Paul Matthews, Managing Director for First West Yorkshire, Alex Hornby, CEO for Transdev Blazefield, Jonathan Woodhouse, Head of Operations for Arriva Yorkshire, and Cllr Keith Wakefield, Chair of WYCA's Transport Committee, came together today to celebrate Bus18's first birthday and mark the achievements.
Alex Hornby said: "We were all really motivated to make things happen quickly with Bus18 and, together, we are delivering. This is exactly what happens when like-minded organisations, with a clear aim on making buses better for the travelling public, come together to produce actions and demonstrable improvements.
"All of us at Transdev remain keen to carry on delivering and ensuring the bus becomes a favoured mode of travel across West Yorkshire and beyond."
Paul Matthews, commented: "We're proud to be part of the Bus18 partnership and to share the progress that has been made to improve the customer experience on West Yorkshire bus services. As one of the main pledges is to reduce emissions, one of our main priorities is to introduce lower emission vehicles across West Yorkshire. All of our new vehicles have Euro 6 engines, which are not only compliant with the Leeds Low Emission Zone proposal, but also offer significant reductions in the most harmful pollutants."
Jon Croxford, Managing Director for Arriva Yorkshire, added: "We are proud to be part of the Bus 18 initiative. Along with our partners, one of our key pledges is to make buses easier to use for our customers, which includes a commitment to improve network stability, further enhance ticket options and provide smarter information with more ways to pay. We are 100% committed to enhancing the customer experience and increasing bus usage in the region."
Cllr Keith Wakefield said: "Buses are a vital part of the local transport network with people using them to make around 180 million journeys each year or 3.5 million bus journeys per week in West Yorkshire.
"Bus18-led measures such as the half fares for pupils in uniform, tackling bus congestion hotspots, investment in cleaner vehicles and the planned affordable go anywhere day ticket for young people, are helping to ensure buses play their full role in underpinning economic growth, investment and job creation."