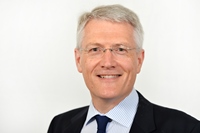 Buses Minister Andrew Jones MP has accepted an invitation to be the keynote speaker at the UK Bus Awards annual presentation ceremony, which is due to be held at the Ballroom on the South Bank in London on November 24.
Guest of honour at the Ceremony will be Jeff Halliwell, who took over as Chairman of consumer watchdog Transport Focus in February this year. He will present the prizes to the Gold Award winners.
Andrew Jones was appointed to his role as Parliamentary Under Secretary of State for Transport following the General Election in May. He is MP for Harrogate and Knaresborough in North Yorkshire.
UK Bus Awards Chairman Tony Depledge said: "We are delighted to be welcoming two such distinguished guests at our 20th Anniversary ceremony this year.
"We know that this an especially busy time for the Minister as preparations are made for the new Buses Bill, and we are most grateful that he is able to spare the time to come to the awards and find out about all the great things that are happening in the industry around the country.
"Jeff Halliwell's extensive experience of retail and marketing during his career mean that he is already fully aware of the paramount importance of delivering great customer service – a view of life that we fully share. We're delighted to be welcoming him to our Ceremony in our 20th year."
Tickets for the Ceremony on November 24 are on sale now, and can be booked online at www.ukbusawards.org.uk