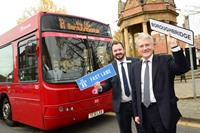 A new bus service linking Boroughbridge with Knaresborough and Harrogate as started, operating every hour from Monday to Saturday.
The 1A, run by Transdev Harrogate, has been praised by councillors and business leaders who are confident it will provide a boost to the town's economy.
Chief Executive at Transdev, Alex Hornby, said: "We have done our research, and the message received loud and clear from the people of Boroughbridge was quicker buses to Harrogate and Knaresborough.
"That's exactly what our new regular bus service will offer, and we're sure it will bring more prosperity to the town.
"As well as being attractive for residents to reach other local town centres, it will bring more visitors and shoppers to Boroughbridge – and what better timing than being established ahead of the busy Christmas period.''
Launching the service at the town's market square last week, Parliamentary Under Secretary of State for Transport and MP for Harrogate and Knaresborough, Andrew Jones said: "This is a great new service from Transdev that will really help connect Boroughbridge to surrounding areas and on to Knaresborough and Harrogate.
"Boroughbridge residents regularly tell me that they want to see improved bus services to Harrogate and that Boroughbridge has been the poor relation in terms of public transport.
"Thanks to Transdev this is clearly no longer the case.  Now that we have this fantastic hourly service I would encourage local people to take full advantage of it."
The news comes one month after Transdev stepped in to save the 'Cathedral Connection' bus linking Ripon, Boroughbridge and York.
The 142/143 will work alongside the new fully commercial route 1A bringing an increased service to Boroughbridge.