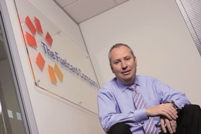 The Fuelcard Company urges government to review levels of tax applied to fuel
Over 35% of transport businesses have been forced to turn down work due to escalating fuel costs, according to research by fuel card reseller The FuelCard Company.
In a poll of 1,480 of the company's fleet customers, over a third (528) admitted high fuel costs were leaving some jobs unprofitable with several admitting work is turned down on a daily basis. All questioned agreed the price of fuel is crippling the industry with some quoting 15% loss of income due to fuel price increases in the last three years.
"Businesses across the UK are feeling the squeeze as fuel prices continue to soar," warned The Fuelcard Company's sales and marketing director, Jakes de Kock. "The UK 's fleet companies are the backbone of the UK economy providing an essential service as road transport is usually the only way goods can get to their final destination."
The survey also highlighted the measures taken by fleet companies in reducing fuel spending over the last 12 months with a "worrying" 17% reducing the number of vehicles in their fleets, which in turn reduces the number of drivers required.
"The continued fuel price increase has hit small and medium sized businesses particularly hard with many forced out of business," continued de Kock. "Support is needed to keep these businesses afloat and we urge the government to review levels of tax applied to fuel."
He said clear fleet companies were already doing as much as they could to reduce the cost of driving with 13 % introducing fuel efficiency driver training and 56% sourcing cheaper fuel. A fixed price fuel card can, on average, save between 3p and 5p per litre on theUKpump price. Fuel card resellers, such as The Fuelcard Company, are able to offer such discounts through the sale of 'Bunker' fuel, similar to wholesale.
"Exclusive discounts apart, considerable time and cost savings can be made via more streamlined administration that offers greater efficiencies into the bargain," added de Kock. "Electronic data reports delivered weekly to clients become a key management tool, as the exact fuel usage per vehicle is shown. A HMRC approved consolidated VAT invoice of all business fuel spend is provided to card users, ensuring businesses claim back 100% of VAT on business fuel expenditure."