RUSSIA ZF Friedrichshafen AG is claiming major success in the Russian bus market as 2011 has seen Moscow transportation authorities order more than 2,000 lowfloor citybuses equipped with ZF driveline, chassis, and steering technology. The entire order goes to the largest Russian automotive operation, the GAZ Group.
In 2006, ZF entered a strategic partnership with the GAZ Autobus Division, which has become a major customer for ZF.
Public transport in Russian cities represents an important business segment for the ZF Group: GUP Mosgortrans, Moscow's transportation authorities, transport approximately 12.5 million passengers every day using approximately 6,700 buses and 950 trams. On more than 523 inner-city and inter-city routes the vehicles cover approximately 765,000 kilometres daily.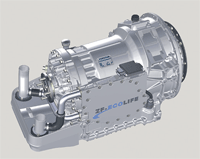 For years, the city of Moscow has consistently worked on replacing its fleet: safety, comfort, environmental friendliness,and low operating costs are in the foreground. Since mid-2007, the fleet managers have relied on ZF technology in their new city and trolley buses. GUP Mosgortrans just ordered approximately 2,000 lowfloor citybuses equipped with ZF transmissions, axle and steering systems: The ZF-Ecomat automatic transmission convinced the fleet managers with its low life-cycle costs and its ability of handling the highly frequent starting processes in city traffic in a comfortable, energy-efficient, and low-maintenance manner. The RL 85 front-axle system and the portal axles AV 132 and AVN 132, which are all equipped with ZF dampers, allow for a continuous low-floor design and thus faster entry and exit of the passengers. As a consequence, the transport volume can be increased due to shorter stop times at bus stops. In addition, all buses are equipped with the steering pumps and the balland- nut power steering system, ZF-Servocom.
The entire order goes to the manufacturer LiAZ, a GAZ Group subsidiary. GAZ has united four leading local manufacturers with an overall annual production of 13,500 buses in its autobus division, "Russian Buses". ZF supplied approximately 2,800 transmissions and 1,400 axle systems to "Russian Buses" in 2010.
By the end of 2011, all 2,000 vehicles are to be delivered. New projects with the even more economical Ecomat successor transmission, the EcoLife, are already planned.
In 2010, ZF driveline components held the leading position in Russia for buses with a gross vehicle weight higher than 16 tons.
However, ZF driveline components are also in high demand in other CIS states, such as Belarus or Ukraine. The stock of buses with ZF-Ecomat transmissions and ZF axles in those three countries, Russia, Ukraine and Belarus, has grown to a total of approximately 6,000 over the last five years.