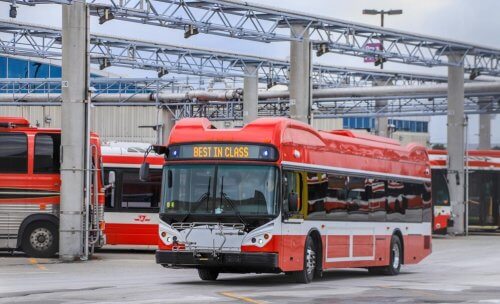 BYD Canada has announced that 10 zero-emission, 40' K9M battery-electric buses will be put into service by the Toronto Transit Commission (TTC), in Toronto, Ontario.
"This is an important milestone for the city, for the province and BYD, and we can't wait for Torontonians to see what BYD's combination of best-in-class technology, and Canadian know-how can deliver for their city," BYD Canada Vice President Ted Dowling said.
"We know of course that this moment, this kind of innovation, doesn't just happen – it takes leadership and real champions at the table to make it work. On behalf of BYD, I'd like to thank Mayor John Tory, Minister Catherine McKenna, TTC Chair Jaye Robinson and CEO Rick Leary and of course Councillor Denzil Minnan-Wong for their strong commitment to a clean, green future for Toronto, and their investment in good, Canadian jobs to get it done."
This is a significant milestone for BYD, as these 10 buses are the first to hit the road from BYD's 45,000-square-foot assembly facility in Newmarket, Ontario. The assembly of these buses created 30 jobs and these are the first buses built in Ontario since Orion closed its plant in 2012.
"Beyond the jobs they create, these 10 buses delivered to Toronto will help remove nearly 8,400 metric tonnes of GHG from the atmosphere over their lifetime – just imagine what we could do with more. We're proud to be a partner in helping make Toronto's vision of an emissions-free transit system – and we look forward to continuing this wonderful partnership for many years to come," continued Dowling.
The Toronto Transit Commission is one of several customers in Canada purchasing zero-emission, battery-electric BYD buses. This order represents a significant advance towards TTC's goal of purchasing only emission-free buses, with full fleet conversion by 2040. Each of these new buses will remove approximately nine metric tons of nitrogen oxides, 159 kilograms of diesel particulate matter, and approximately 1,530 metric tons of CO₂ from the atmosphere over the 12-year life-cycle of the vehicle.