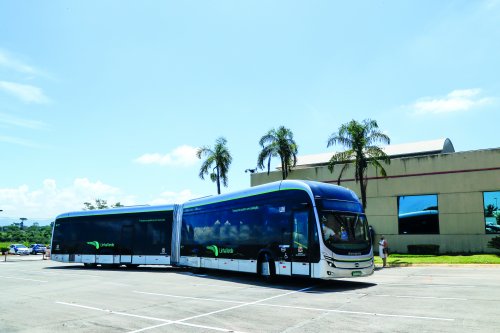 BYD has unveiled its first locally-made pure electric articulated bus in São José dos Campos, in the state of São Paulo, Brazil. The vehicle, which will operate on the country's first corridor operated entirely by electric buses, will remain on show in the city until the end of March. BYD expects to deliver the full fleet of 12 buses by October.
Marcello Schneider, Director of BYD Brazil's Bus Division, reiterated the advantages of choosing electric transport, saying: "BYD will deliver this pure electric bus model to the city of São José dos Campos, and we are thrilled to contribute to a more sustainable city and greener mobility.
"The City Hall understands the relevance and the actual need to replace conventional vehicles with non-polluting ones. Investing in electric vehicles improves the air quality, directly impacting the population's health, as well as bringing greater comfort to the user and driver, thanks to their quiet operation."
Felicio Ramuth, Mayor of São José dos Campos, Paulo Guimarães, Transportation and Mobility Secretary of São José dos Campos, and other dignitaries were present during the unveiling at the Technological Park of São José dos Campos.
The Attivi Express body, developed in partnership with Brazilian manufacturer Marcopolo, is 22 metres long, has lithium iron phosphate batteries (LiFePO4), a claimed 250-kilometre range on a single three-hour charge, and a capacity for 168 passengers.
Reflecting current priorities, the buses are equipped with Marcopolo's BioSafe System, with a UV-C air disinfection system installed in the air-conditioning, as well as antimicrobial finishing in the seats, handrails, and handholds. Traditional rear-view mirrors are also replaced with two high-definition cameras. The 22m articulated chassis were produced by BYD in its factory in Campinas, and are being bodied by Marcopolo.