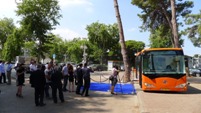 Israel Dan Bus Company has started operating a BYD ebus in Tel Aviv. Entering service on Line 5 the ebus is expected to integrate into normal operation thanks to its 250km range on a single charge in normal urban conditions. It can also be recharged in four to five hours.
Dan Bus is planning to invest Ç85 million in electric buses over the next five years, which means 25% of its fleet will be emissions free. Dan Bus believes the maintenance costs for electric buses are 25% lower than for diesel buses, with the price of electricity per kilometre being a third of the cost of diesel.
The BYD ebus is being imported to Israel by Clal Motors, a wholly owned subsidiary of Clal Industries. Use of the electric bus will lead to operational efficiency and tremendous savings throughout the life cycle of the vehicle, particularly as diesel is not required.
Additionally, the electric bus offers important advantages in the city as it is quiet and is virtually non-polluting at the point of use.
Michael Nagar, Chairman of Dan, and CEO Shmuel Refaeli, said: "Today we mark a new era in the vision of public transportation being led by Dan. The quiet and comfort of travel in the electric bus hails a revolution in consumer experience, and we plan on offering this experience to all Dan passengers around the country. We thank Clal Motors and BYD for this strategic co-operation. We wish everybody a safe and quiet ride."
Doron Vadai, CEO of Clal Motors said: "Public transport based on electric buses is part of Clal's and BYD's vision of the green city, which includes electric buses and cars, generation of electricity through solar energy and use of energy-efficient LED lights. We are delighted to be partners in Dan's implementation of the vision in Tel Aviv."
Dan currently operates close to 1,300 buses and hundreds of minibuses in the Tel Aviv metropolitan area. The operator is considered to be a pioneer in setting urban public transport standards in Israel and worldwide, with the introduction of the lowfloor buses to Israel, which over time have become the standard for urban public transport operators.
The BYD ebus measures 12m long and features specially designed wheel-hub motor, electronically controlled air suspension, an exceptionally low floor, multiple door choices and ample floor space for easy passenger access.
The Iron-Phosphate battery or "Fe Battery" used on the BYD ebus is safe and non-polluting: the materials contained in the battery can be recycled or safely disposed of.