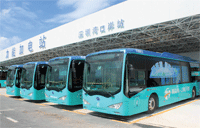 China's BYD sees European potential for a full-sized zeroemission electric bus
CHINA Chinese bus manufacturer BYD, in which super-investor Warren Buffet holds a 10% stake, is to launch a range of full electric and hybrid passenger vehicles in Europe and will unveil its eBUS-12 full sized single deck electric bus at Busworld in Kortrijk.
The eBUS-12 is believed to be the first full size full electric bus in the world.
BYD (standing for 'Build Your Dreams') is a major corporation employing more than 200,000 people. The company began life as a producer of lithium batteries (for mobile phones and devices) before entering the automotive arena in 2006. The eBUS-12 is its first bus model and is due to enter trials in several European cities, including London, Copenhagen, Frankfurt and Amsterdam, in the coming months.
As part of its 'Green City Solution' programme, BYD has been focusing on the research and development of electric vehicles of all types, including passenger cars and buses. Currently it has two pure electric vehicle models: the e6 car and the eBUS-12. Both have been in the public transport service in China, with pilot trials in several other countries including the Netherlands, Spain, the US and Hong Kong.
The eBUS-12 will be followed by a range of new eBUS models in the near future, including a 7.0m model and a double decker.
The eBUS-12 is designed for passenger comfort. The specially designed in-wheel drive and the electronically controlled air suspension (ECAS) give the eBUS- 12 an exceptionally low floor, a wide door and ample floor space for easy passenger loading and unloading.
The front windscreen occupies two thirds of the front face of the bus for maximum visibility and safety. The silver body conveys an elegant exterior image, while the interior boasts adjustable leather driver's seat, high-quality leather seats for passengers, and carefully engineered sound insulation to keep the interior noise levels whisper quiet.
As BYD's first pure electric bus, the eBUS-12 also employs many advanced technologies developed internally by BYD. For example, the unique BYD Fe Battery used on the eBUS-12 is non-polluting as the materials contained in it can be recycled or easily disposed of. Solar panels installed on the roof supply power to help charge the Fe batteries. The trip computer on the instrument panel provides all the service information necessary for the driver and gives clear information while driving.
eBUS-12 Highlights
Environmentally friendly:
No direct emissions
Low noise
Recyclable Fe battery: no toxic electrolytes and no heavy metals
High tech:
Regenerative braking
In-wheel drive
Fe battery
Easy charging – Fully charged in 3 to 6 hours, depending on charger type
Long range:
The eBUS-12 is able to run 250 km (155 miles) on a single charge in urban conditions (without input from the solar cells).
Safety:
Uni-body construction
4-wheel disc brakes
ABS and ASR
Passenger-oriented design:
Three passenger doors with low-entry
Special ramps for wheelchair access
Flat floor throughout the passenger cabin
Paul Lin, BYD's Head of European Sales, said: "With eBUS-12 we have chosen to address one of the most demanding vehicle types – a full size passenger bus. We are confident from our extensive testing programme – which has taken place over the last two years – that we can match our range and recharge claims in the real world offering enormous environmental advantages in the process".
Mr Lin, who is currently based at BYD's European HQ in the Netherlands, added: "We are hoping to attract considerable interest from European bus operators during Busworld and will be in a position to begin our trials programme within just a few months".