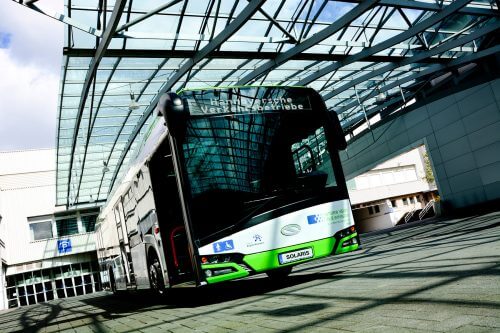 Spanish firm CAF – which predominantly manufactures railway components, equipment and trains – has entered into a deal to acquire Polish bus manufacturer Solaris.
As part of its 'Strategic Plan', CAF sees the acquisition of Solaris as an important part of its aim to become Europe's leader in sustainable urban mobility systems.
The deal will mean CAF can broaden its range of products significantly, enabling it to better meet the current and future needs in urban transport – particularly in electric mobility.
Andrés Arizkorreta, President and CEO of CAF, said of the deal: "CAF's investment in Solaris confirms our commitment to the vision of profitable growth and opens new strategic markets to CAF.
"Together with Solaris, we will create a leader in urban mobility solutions beyond rolling stock, particularly in the e-mobility segment.
We want to continue using and to develop Solaris' valuable brand and to keep its Polish character. The combination of both companies' know-how in production, design, technology and services, together with the track record of Solaris in bus product innovation will allow us to better serve our clients while creating shareholder value."
Meanwhile, Solange Olszewska, President and CEO of Solaris Bus & Coach, commented: "By selecting CAF as an investor for Solaris, we ensure a promising future for the brand, its clients and its employees.
"I strongly believe that CAF has the right vision for the company and will be able to develop Solaris' potential on a global scale. I am confident that this agreement is fully in line with everything we have achieved since the company was founded 22 years ago and elevates Solaris to a higher level of development path."
Established in 1996, Solaris buses have a presence in over 700 cities and 32 countries, and in 2017 turned over almost €450 million. It has two plants in Poland – in the cities of Bolechowo and Sroda – and a workforce of over 2,300 people.
Last year, Solaris delivered 1,397 – predominantly to Poland, Germany, Italy, Scandinavia and the Baltics. Sales of the company's electric buses are growing year-on-year; the Urbino Electric was also awarded 'Bus of the Year' in 2017.