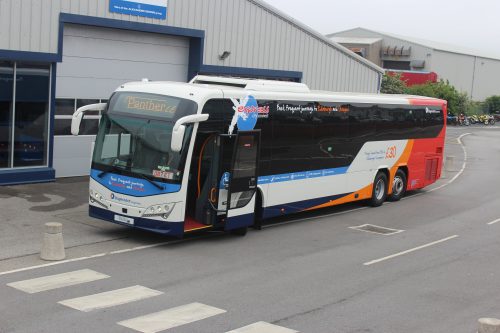 Following last week's story (CBW1349) on the operator's financial results, more details have emerged about Stagecoach's forthcoming vehicle orders for 2018/19.
Of the 267 vehicles set to be added to the fleet over the remainder of the financial year, all but six are to be built by Alexander-Dennis (ADL) and Plaxton.
171 vehicles are destined for use on bus services (including megabus.com) outside of London, while the remaining 96 are to enter service in the capital.
The order in detail
Outside London:
ADL Enviro400 MMC Euro VI: 58
ADL Enviro400 MMC Euro VI (GOLD specification): 36
ADL Enviro200 MMC Euro VI Midibus: 15
ADL Enviro200 MMC Euro VI single-decker: 23
ADL-BYD Enviro200 MMC Electric: 9 (Guildford Park & Ride)
Plaxton Panther LE Volvo B8RLE: 9 (East Scotland)
Plaxton Panorama Volvo B11R: 5 (West Scotland)
Plaxton Elitei Volvo B11R: 10 (Megabus Rugby/Cwmbran)
Wrightbus Volvo B5TL open-top: 6 (Cambridge)
Total: 171
London:
ADL Enviro400 MMC 48v Smart Hybrid: 63
ADL Enviro200: 33 (7x 8.9m single-door, 12x 9.7m double-door, 14x 10.8m double-door)
Total: 96