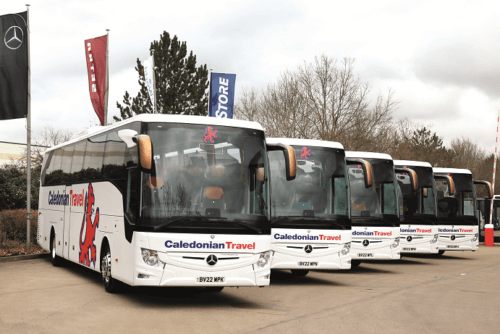 Caledonian Leisure has celebrated its 250,000th customer by surprising five customers in each of its travel centres in Glasgow, Gateshead, Hull, Middlesbrough and Wakefield with a free break for two
Caledonian Leisure is celebrating after Caledonian Travel and sister brand UKBreakaways recorded their 250,000th holiday customer just 14 months after launching. To mark the achievement and to say 'thank you' to its customers, the company awarded five people at each of its travel centres in Glasgow, Gateshead, Hull, Middlesbrough and Wakefield a free break for two.
Since launching in April 2021, Caledonian Travel has established itself quickly, driven by an expansion of the brand from its Scottish heartlands into northern England, with new departure points throughout the North East and Yorkshire supported by the opening of the five travel centres.
To meet demand for its breaks and holidays, Caledonian Travel has expanded its fleet – which it affectionately calls its 'Pride of Lions' – and now boasts over 70 coaches along with a team of drivers and representatives. The company says customer feedback for its breaks and holidays has also been overwhelmingly positive since its launch, resulting in recently winning a 2022 Feefo Platinum Trusted Service Award, an independent seal of excellence based on customer reviews and feedback designed to recognise businesses who consistently deliver outstanding customer experiences.
Managing Director Graham Rogers says: "We're extremely proud to record our 250,000-customer milestone, just 14 months after our launch. Our rapid growth during this time is a clear indication that we are delivering a holiday service that meets our customer needs – an exceptional range of innovative breaks and experiences at sensational value – and our recent Feefo award is testament to this.
"The response from customers over the past 14 months has been overwhelmingly positive and I'd like to thank every holidaymaker who has travelled with us during this time, along with our outstanding team of colleagues who have worked tirelessly to support our business. Our strong performance over the past year provides a healthy platform to accelerate our growth, and with ambitious plans in place we're excited for what the future holds and confident we will continue to outperform our business plans."
Commercial Director Martin Lock added: "We are continuing to see a surge in bookings as the appetite for staycations remains strong. We are in the process of launching a summer multi-channel marketing campaign across TV, radio and digital campaigns as we look to further strengthen our profile and boost sales."