Corethree, the UK-based innovative technology company has signed an agreement with Cardiff Bus for the provision of mobile ticketing services across the municipally-owned operator's network.
The Cardiff Bus m-ticketing app became available on October 20 via iPhone and Android devices on any mobile network, allowing bus passengers to browse, select, purchase and use bus tickets all from the convenience of their own mobile device.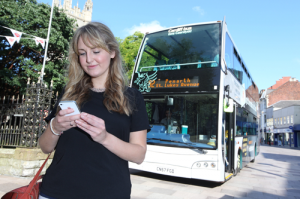 Corethree's mobile capabilities combined with its back office administration and analytical tools mean that passengers can now receive tailored products from transport operators which meet their own specific requirements.
Using analytical data, new ticketing products can be created by transport operators via Corethree's web console within a matter of minutes, saving time and money. Passengers who require bespoke ticketing such as a book of tickets – to be used over a certain period – or a family ticket can now be offered via mobile.
Richard Stevenson, Corethree's Product Specialist said: "Our m-ticketing technology offers the flexibility to create new ticketing products in real-time and allow our clients to cater for a variety of different passengers' needs at a price point which suits them. Over the last two years, results from specific tailored products have shown an increase in patronage and revenues, rather than a shift in channel adoption."
Passengers using the Cardiff Bus m-ticketing service will also have a choice of payment methods when purchasing tickets as Corethree have included Barclays Pingit mobile checkout to their mobile wallet, with the alternative to pay via debit or credit cards.
Peter Heath, Operations and Commercial Director at Cardiff Bus said: "Corethree's mobile ticketing offering was the natural choice for Cardiff Bus to create operational efficiencies and improve the customer experience. Our mobile solution will offer customers the ability to buy a ticket which is right for them, whilst on the move and removes the hassle of finding the right change or queuing for a ticket."