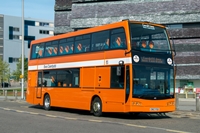 Commemorative livery for Welsh municipally-owned operator at same time as it releases customer satisfaction survey results
Cardiff Bus has marked its 30th anniversary of being a council-owned arms-length company trading as 'Cardiff Bus,' with the transformation of one of its East Lancs Olympus-bodied Scania double-decker buses into its former 'Pick an Orange' livery.
The bus will keep the orange colouring for the next 12 months, and will be used on all of Cardiff Bus' routes.
The Welsh capital's municipally-owned buses were traditionally crimson and cream, but in 1972 this was changed to the orange and black livery of the anniversary vehicle. The so-called 'Pick an Orange' branding was introduced in 1986, and in 1999 the Cardiff Bus brand was changed to a green-based livery.
Gareth Stevens, Commercial Manager at Cardiff Bus, said: "Our brand and our buses have transformed over the years. Whilst we were established in 1902 by using electric trams, 2016 is the 30th anniversary of the company being a standalone company.
"We felt the best way to celebrate this was to go back to our past and reintroduce the 'Pick an Orange' brand on one of our buses There will be many customers who will remember our famous orange colour and we hope they enjoy seeing it return to one of our buses once again."
Cardiff Bus has also announced the results of its latest independent passenger survey, which arose from onboard passenger interviews. Overall, the results show that eight in 10 passengers interviewed were satisfied with the total experience of using the Cardiff Bus service.
In other results, 93% of passengers said that they were satisfied with the ease of boarding the bus, up from 89% in 2015. 81% of passengers said that they were satisfied with the convenience of bus stops, and 79% of passengers mentioned they were satisfied with the ease of getting a seat on the bus.
Reasons provided by passengers as to how the service had improved included buses being more frequent and reliable, better quality buses, new innovations, such as the iff smartcard, electronic timetables and quicker journey times. Free 4G WiFi, introduced last year, was mentioned as a key perk for traveling on Cardiff Bus.
"We continually make changes to improve our services," said Gareth. "It's great to see that the changes we have made are being recognised in our customer satisfaction survey and are being well-received by our passengers.We now know the areas in which we are doing well and the areas which we can improve on. Hopefully next year we'll be able to top these results for our customer satisfaction."