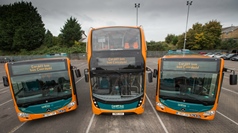 Cardiff Bus has unveiled 20 brand new buses, the final part of a three year investment strategy to update its fleet.
Adding to a fleet of over 210 vehicles, the 10 Mercedes-Benz Citaro single-deckers and 10 Alexander Dennis Enviro400 double-deckers are all specified with Euro 6 engines.
The new buses will be used across the operator's network covering Cardiff, the Vale of Glamorgan and to/from Newport. All come complete with CCTV, contemporary interiors, free 4G WiFi and USB charging points.
The buses also feature next stop announcement systems to assist blind and partially sighted passengers.
Cynthia Ogbonna, Managing Director at Cardiff Bus, said: "We continuously look for ways to improve the service that we provide to our customers and this latest investment does exactly that.
"The new buses have great facilities including audio and visual next stop announcements in both English and Welsh, an important feature for blind and partially sighted customers. They also have a larger capacity than our older buses, whilst being more eco-friendly, which was something that customers had told us they would like from our service.
"Investing in new buses demonstrates our commitment to providing a public transport network that rivals the best in the UK and is fitting for a dynamic European Capital City."
Over the last three years, Cardiff Bus has invested in £3.5million in new buses as part of an ongoing commitment to improve its fleet and service.