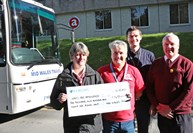 Aberystwyth-based coach and bus operator Mid Wales Travel has handed over a cheque to its company charity of the year – the Wales Air Ambulance.
Mel Evans, Director at Mid Wales Travel, told CBW: "It's important to support good causes such as the air ambulance as we never know when we may need to call on the services they provide. It's vital we contribute financially to help keep them going."
Last week, some Mid Wales Travel drivers collected donations onboard their vehicles in aid of Children in Need. Next year's charity is to be Aberystwyth and Borth lifeboat station.