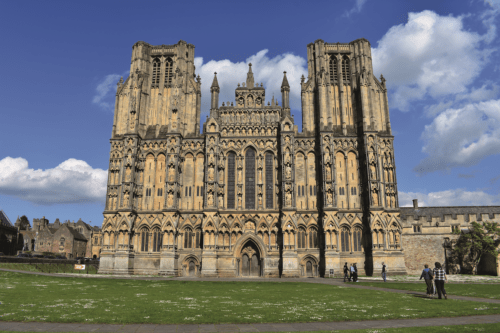 Alan Payling suggests a tour that takes in some of England's finest and most historic buildings could be a blessing in disguise

CBW is not a magazine in which the editorial team publishes very much about religion – and some may be truly thankful for that. But there's always a first time for everything. I raise this subject, not because I'll be knocking on your garage door one day soon offering you leaflets to save your soul or asking you to pray with me – and some of you may thank heaven for that as well. Rather, it's because I'm a bit of a Christmas Christian which has given me ideas for the coach trade. Let me explain what's on my mind which I will try to do without making it sound like I'm preaching.

Christmas spirit?

When it comes to Christmas, I like to remember what it's supposed to be all about. This involves me heading off to a place of Christian worship for a carol service, not on a shopping trip. However, I do like to do it in some style. Not for me the local parish church. Oh dear me no. To my mind, if you're going to have a word in His ear and a bit of a sing song with God, then only one of our marvellous cathedrals will fit the bill.

So over the last few years I have been heard serenading the Almighty, his son and mankind during the season of goodwill at carol services in majestic and holy places like the cathedrals at Ely, Bury St Edmunds, Exeter and Bristol. I have also delighted the gathered flocks with my magnificent baritone during visits to Bath Abbey and St Mary Redcliffe in Bristol, which must really be considered a cathedral in all but name. But the daddy, or the Holy Father, of the ones I have visited was Gloucester Cathedral. Overall, my cathedral carol service experiences have invariably been a bit magical. I suppose it's a combination of being in an awesome building, great carols rather than the usual Sunday dirge, everybody singing along together with some seasonal gusto and absolutely superb choirs that appeals to me. It's a bit like TV's Songs of Praise but with a lot of sherry – known in posh circles as the holy spirit – thrown in. And such occasions are very popular, I would point out, because these cathedral carol services, if you haven't attended one, are rammed full, sometimes, standing room only jobs.

That's why, when I'm ding donging merrily on high, my mind turns towards the coach trade. I know, I know, I should be having heavenly thoughts, but when I look round the congregation at the gathered throng, while I should be thinking about holy virgins, the immaculate conception and wise men, I can't help but see coach passengers and think about what great places cathedrals are for groups to visit. So while I don't think much about frankincense and myrrh, I do think there might be some gold here for the canny coach tour operator. I know, I've sinned. But only a little bit. I hope. But if it ends up with operators taking more people along to these magnificent houses of God, then I trust that forgiveness and salvation will follow. The Lord does work in mysterious ways you know, particularly if he's relying on me to fill his contribution boxes.

[…]

By subscribing you will benefit from:
Operator & Supplier Profiles
Face-to-Face Interviews
Lastest News
Test Drives and Reviews
Legal Updates
Route Focus
Industry Insider Opinions
Passenger Perspective
Vehicle Launches
and much more!