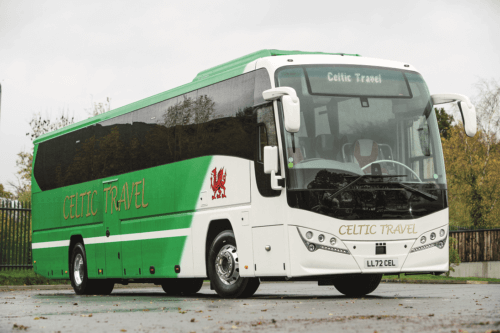 Mid-Wales independent coach operator Celtic Travel has strengthened its relationship with Asset Alliance Group to finance a further three new vehicles. The operator has acquired a 53-seat PSVAR-compliant 12.8m Volvo B8R Plaxton Panther 3 on a hire purchase deal which will be used for private hire work in Wales and across the UK.
Asset Alliance Group also helped the business add two Volvo B8RLE MCV Evoras on hire purchase agreements earlier this year, as part of its fleet upgrade programme. Operating across mid-Wales six days a week, the buses are expected to clock up more than 120,000km per year.
Celtic Travel Director Phyl Davies said: "The vehicles have helped to standardise our fleet on the Volvo B8R chassis. As part of our fleet renewal, they also provide more reliability for us in delivering our bus services across mid-Wales and improving our UK-wide private coach hire offering. We know we can rely on the new buses to start every morning and get back every night, which is important for our peace of mind. Driver familiarisation with the MCV Evoras is also critical – once they know how one vehicle drives, they are familiar with them all. It makes everything easier."
The new additions join a 40-strong fleet of predominantly Volvo buses, coaches and minibuses, which includes another five Evoras operated by Celtic Travel from its Llanidloes base.
The business has a long relationship with Asset Alliance Group, and Phyl said he has been 'delighted' with the support received from the Asset Alliance Group. "The customer service is always excellent and they've done us proud once again," he said. "If I ask for something, they will pull out all the stops to deliver, and I know I'm always getting good rates. Overall, it's a great package and that's why we keep going back to them."
Director of Bus & Coach at Asset Alliance Group Darren Fitzpatrick added: "We are always delighted to see long-term customer relationships continue and be able to support the Celtic Travel team in their fleet expansions once again. It is a measure of the success of Celtic Travel that it continues to invest in its fleet and we are proud to be an ongoing supplier in its upgrade plans."