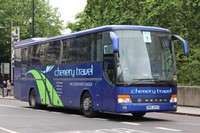 South Norfolk-based coach operator Chenery Travel has ceased trading, leaving Norfolk County Council (NCC) to rearrange school routes previously handled by the company. The company stopped its business on Friday, June 3.
The affected school services include four bus routes to Long Stratton High School, two for Archbishop Sancroft High School, and two for Diss High School.
Parents were reassured that the eight school bus services that Chenery Travel will no longer be able to operate would run as usual, and would be covered by other local operators from Monday, June 6. Pupil bus passes will still be valid on the replacement buses.
A spokesperson from NCC said that the council had worked swiftly to make sure school buses ran as usual from Monday, but asked for parents to be patient as the new arrangements settle in.
Chenery Travel had been operating in the area for more than 60 years. Four years ago it sold the parts of its business involved with concerts and day excursions to Galloway Travel Group in Suffolk, in order to better focus on the coach hire side of its business.
Asked for the latest on Chenery's National Express (NX) coach contracts, an NX spokesperson told CBW: "We are using a variety of operators to cover the service including: Ambassador Travel, Tower Transit, Talisman Coach Lines and Reliance Travel.
"The key message from us is that there has been no impact to delivery of service – everything is running.
"We are currently reviewing our plans for long term operation."