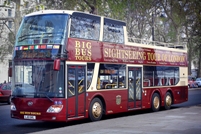 Big Bus Tours' open top double-deckers from Chinese manufacturer Ankai enter service in London
Big Bus Tours recently took a delivery of 20 double-decker sightseeing buses, manufactured by the Anhui Ankai Automobile Limited Company.
Having successfully completed the Individual Vehicle Authorisation (IVA) process, and subsequently gained approval by VOSA officials, Big Bus Tours has now launched these buses into service within its London fleet, helping to carry the million customers the company welcomes to London each year. The 20 new buses in London are being introduced as direct replacements for existing vehicles.
The 81-seater buses, assembled by Ankai in China, are equipped with Cummins Euro 5 engines, Voith gearboxes and ZF axles. Half of the buses are fully open-top, and the others are of a half-top design. Their launch represents the culmination of a two-year collaborative consultation between Big Bus Tours and Ankai. The two businesses have worked closely throughout the entire research and development process to ensure a bespoke product, specifically tailored to meet the needs of Big Bus Tours' busy London sightseeing operation.
Ankai first supplied vehicles to Big Bus Tours in Dubai in 2007. Since then, they have continually worked together, developing vehicles to meet the requirements of a number of other markets. Big Bus Tours has now incorporated Ankai buses into its fleets in Abu Dhabi, Hong Kong, Shanghai, Las Vegas, San Francisco and Philadelphia.
Big Bus Tours' Group Engineering Director, Gerry Price, said: "We pushed the Ankai team to deliver the best vehicle they could to meet the intensely busy service requirements of the London operation, whilst raising the bar in terms of quality of fit and finish needed to impress even our most discerning customers. All of this went on within the very prescriptive realms of the IVA process; and although the process itself could not be classed as plain sailing, the products of the process, and even more importantly the efforts of the whole London engineering team in collaboration with the Ankai team, have resulted in an extremely impressive vehicle."
Big Bus Tours currently operates a combined fleet of over 300 sightseeing buses worldwide, of which 74 have been manufactured by Ankai.
Anhui Ankai Automobile Co. Ltd, which brands its products 'Ankai', is listed on the Shanghai Stock Exchange. It's English language website can be found at https://english.ankai.com/